2013 Royal Agricultural Winter Fair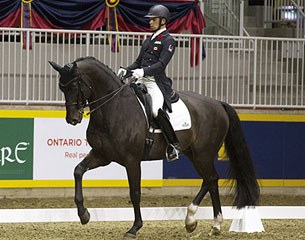 Canadians David Marcus and Diane Creech took top honours in the small invitational Grand Prix dressage classes held at the massive national Canadian event, the Royal Agricultural Winter Fair, in Toronto on 6 - 7 November 2013. David Marcus and Chrevi's Capital won the Grand Prix whereas Diane Creech and Devon L reigned in the kur to music.
Limited to the best riders in the nation, the top four Canadians in the world rankings were invited to contest the $20,000 Royal Invitational Dressage Cup.  The win was even more special as the Canadian Dressage Athlete Assistance Program, founded by Marcus's owner, Deborah Kinzinger, was also the presenting sponsor of this year's event.
Riding his 2012 London Olympic mount, Chrevi's Capital, Marcus earned a score of 70% from the panel of judges for his Grand Prix test.  London Olympic alternate, Diane Creech riding Devon L, placed second with a score of 67.80%.
"In the Grand Prix, I wanted to go in, do a clean test, and hit that 70% mark; it was exactly what I wanted," said Marcus, 33, of his performance.  "Capital was very relaxed and very rideable.  I said before the Freestyle that if we can reproduce that with the stands full, I'd be thrilled."
Marcus is in the unique position of having two grand prix mounts, and gave the nod to Chrevi's Capital over Don Kontes, also owned by Kinzinger, for the $20,000 Royal Invitational Dressage Cup. "I felt like it would be good for his confidence, and show that he is in top form and can handle these situations comfortably," said Marcus of his decision to ride Chrevi's Capital, a 13-year-old Danish Warmblood gelding (Chrevi's Cavallo x Weinberg).  "The Royal is a unique competition in that it's an indoor competition, which is rare in North America.  The fact that it's an indoor competition makes it a great test of the horse's ability to handle atmosphere, which is something that's very important at the top level of the sport."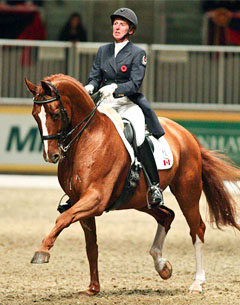 Diane Creech of Caistor Centre, ON won the $20,000 Royal Invitational Dressage Cup, dominating the Freestyle to Music with an outstanding score of 75.417 percent with partner Devon L. From the moment the pair stepped into the ring, it was clear they would be the ones to beat.
"Diane's horse was wonderful tonight," said Elizabeth McMullen, judge at 'C' this evening. "Lots of power, lots of rhythm. Last night they had some trouble with the tempi changes but tonight it was superb. The horse really makes you sit up and pay attention. He's just lovely."
Doug and Louise Leatherdale's Devon L pulled the whole package together tonight in the Freestyle, showing good energy, engagement, self-carriage and fantastic extensions. The one-tempi zig-zags were nearly flawless and although they appeared to finish ahead of their music, Devon simply had a presence which could not be overlooked.
"Nothing is hard for him in there," said a visibly emotional Creech following the victory gallop. "He can do the moves and he has the power. It's a pretty electric atmosphere and it's always a little wait to see how he's going to react to the environment. He stayed really focussed and I was really happy with that."
David Marcus and Chevri's Capital finished second with an overall mark of 72.917%, narrowly topping Jacqueline Brooks and D'Niro's score of 72.042%. Evi Strasser borrowed her daughter's Young Riders' mount Action Tyme and took fourth with 67.375%.
Photo © Cealy Tetley
Related Links
Jacqueline Brooks Retires Gran Gesto at the 2012 Royal Winter Fair
Holzer and Breaking Dawn Top Grand Prix at 2011 CDI Toronto
Holzer Makes it Three In a Row, Rocking Out Dressage Night at 2010 CDI Toronto