2013 Australian Dressage Championships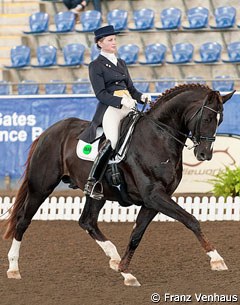 Moving to Australia four years ago, German born Janina Kletke took up an opportunity to become the rider at Bluefields Warmblood Stud and after taking out both the Prix St Georges and the Prix St Georges Stars of the Future competition at the 2013 Australian Dressage Championships, Kletke feels that her life down under has been a big success.
"My weekend at the 2013 Australian Dressage Championships couldn't have been a bigger success for me," Janina told Eurodressage. "Winning the Prix St Georges and Future Talent competitions on my current top horse Bluefields Floreno was great, particularly as there were some really nice horse and rider combinations entered. I also competed on one of my very talented young horses, Bluefields Berlin, and for his first ever event I was delighted to win the 4-year-old qualifier competition with a score of 7.420."
Trekking his way from Germany to Australia earlier this year, the Westfalian stallion Berlin (by Belissimo M x Londonderry x Weltmeyer surprised with his effort. She had only really entered him to see what he'd be like in a competition environment. "He's obviously great and I'm feeling very lucky to have such an incredible horse in my stable," she said.

Janina added that in the lead up to this competition she was just hoping to give it her best shot, knowing that it was only her third competition on the East coast since she relocated there from Perth a couple of months ago.  "Basically no-one would knows me over here in Sydney,  so I didn't really have any expectations," she admitted. "All I really wanted to do was to present myself and my horses in the best way possible and deliver a couple of good, clean tests, which I think I did."
Team Bluefield
With a number of talented horses in her stable, Janina considers the 8 year-old licensed Wurttemberger stallion Bluefields Floreno (by Florencio x Roy Black x Akzent II  mare) her leading man. She feels that he is a very smart horse with an incredible work ethic.  "In the early days of our partnership he used to be quite an introvert and almost a bit shy, but the longer we worked together the more I could get him to come out of his shell and these days he'll literally try his heart out for me.  He is very eager and always wants to do a good job, which can sometimes be a bit tricky. For example when you've been training one time changes at home and he really, really wants to show me that he hasn't forgotten how they work- in the middle of the 3-time changes of a Prix St Georges test," she laughed.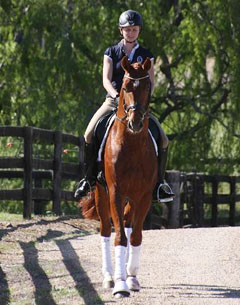 Her other almost 4-year old stallion Berlin is still getting to know his rider, since his arrival in Australia just a few months ago. Janina knows he is certainly a horse to keep a close eye on in the future. "He has got it all: 3 excellent basic gaits, the looks of a real heartbreaker, the brains of a uni-graduate with honours and his work ethic is just incredible. He's quite different to Floreno, very outgoing and inquisitive and he just loves to be the centre of attention!"
Offered the opportunity to ride the Bluefields Warmblood Stud horses, a stud farm owned and operated by Lys and JJ Fuchs, Janina had been to Australia a couple of times prior to her move in 2009. As she was already friends with Lys and JJ back then, the trek down under was easy.  Now the stud owners are more like family to her.
German Show Jumping Roots
Kletke's roots actually lie in show jumping, but the switch to dressage seems to have become a permanent one. "I never wanted to become a dressage rider, as a kid I always thought that dressage was pretty damn boring," she admitted. "I grew up in a show jumping stable. When I decided to become a professional rider and went to do my apprenticeship I thought it would be a good idea to at least do some dressage. That's why I decided to work for a stud that would do both. And somehow - to date I'm still not quite sure how- I ended up in dressage."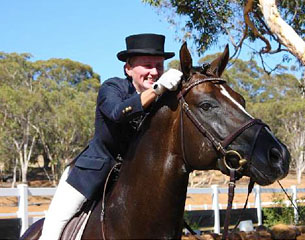 The one person that made all this possible in the very beginning, according to Janina, is Ulrike Kampann, who always believed in the young German and never got tired of teaching her. "From self-discipline and criticism, to respect and humbleness for the creature horse we're  working with every day and who's basically at our mercy all the time, to persistence and staying grounded as well as learning to read between the lines of sometimes apparently straight forward problems that for some reason weren't all that easy to fix," Kletke enumerated. "She has been the biggest influence in my life when it comes to horses and I will always be grateful for everything she taught me!"
In 2004 Janine completed her apprenticeship to become a "Bereiter" at Gestut am Wiesengrund in Germany. Kletke then moved on to jobs at Gestut Rahmannshof, Zucht and Sportpferde Schmidt and afterwards became an assistant rider to Carola Koppelmann. In 2009 she expanded her horizon and moved to the other side of the globe to start a new life.
Life in Australia
In love with the stunning facilities and space at her new home is Bluefields Chevaux Parc, located just out of Bowral, the farm offers everything Janina needs and more for the horses and for herself, and after just a few months, she feels at home already. "Since we moved across from Perth I've been focusing mostly on myself and my horses, trying to make sure they all settle in well, and at the moment I have 7 horses in work, some of them from clients, and some up for sale," she said.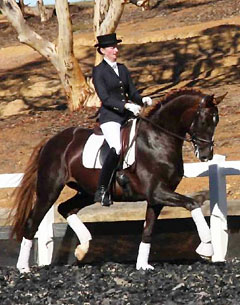 Kletke is also training the 4-year old stallion Federer (by Floreno x Baroncelli x Davignon) which reminds her of the sire. Her string of horses in training also includes a talented 6-year old mare (by Rubin Royal x Fürst Heinrich x Tolstoy). "She isn't very big due to an illness as a foal, but she's probably one of the most gifted horses in terms of ability and talent," she said.
Set for a 2014 focused on carefully developing her young horses, Janina is booking in for a start on Berlin at Dressage with the Stars, as long as everything goes well and the horse is ready. "With Floreno, I'm looking forward to our first CDI's and his first small tour starts earlier next year, and then we will take it from there."
And for the future? "Well, Work hard, dream big and hope for the best."
by Sarah Warne for Eurodressage
Photos © Franz Venhaus / private
Related Links
Scores: 2013 Australian Dressage Championships
Hellyer and Kletke Win First FEI Classes at 2013 Australian Dressage Championships
Sheridyn Ashwood Crowned 2013 Australian Dressage Champion
Rosandro, Leyenda, San Schufro Win First BuCha Qualifier of the Season in Iserlohn