2013 Belgian Young Horse Championships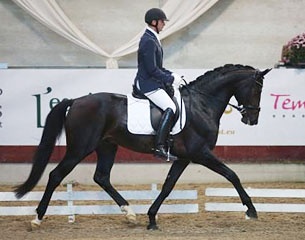 The Belgian Young Dressage Horse Championships finally returned to its highly celebrated original location in Gesves for the 2013 edition and were considered a huge success. Held from 25 - 27 October 2013, the Nationals were organized this year by Gregoire Naslin and featured  the 4-year old El Capone, 5-year old Dolcherie and 6-year old Sir Donovan as grand winners.
In the 4-year old division Tom Heylen and Luc Mariën-Bouwens' Dutch warmblood El Capone (by Tuschinski x Camus) rode to the national title after winning the first round with 83.600 points and slotting in second in the second round with 79.80 points.  Dominique Mohimont and the Dutch bred El Corona Texel (by Wynton x Goodtimes) were good for silver. They were third in round on (79.80 pts) and climbed to first place in the final round with 82.40. Katrin Verreet claimed bronze with her own Quorum Y (by Quaterline x Uniform) after placing fifth in round one 78.00 and third in the finals with 79.20 points.
In the 5-year old division Belgian World Young Horse Championship contestants Tom Franckx and the Dutch mare Dolcherie (by Painted Black x Krack C) showed excellent form winning all three classes with 84,000, 80,400 and 84.200 points. Laurens Vanderbeeken and All Inclusive (by Abanos x Sir Lui), which is bred by Belgian Grand Prix team rider Philippe Jorissen, were a strong second with a second place in round one (80,000) a fifth in the second round (72.00) and second again in the finals with 78,000. Nick van Laer on Serge Pais' Dutch bred Double Dutch (by Jazz x Wisconsin) were solid thirds after ranking fourth in the first round (77.600), second in round two (76.00) and third in the final test with 75.80.
Nick van Laer and his 2013 Verden ride Sir Donovan (by Sir Donnerhall x Weltmeyer) . The pair won the first round with 80.40, dropped to third place in round two (74.00) and were back on top in the final test with 78.40 points. Brecht D'Hoore and Sniper van de Helle (by Sunny Boy x Florestan) were second in round one (79.60), first in round two (74.60) and second in the final (74.40). Laurens Vanderbeeken earned his second medal at these Championships, a bronze with Happy Pia van de Bergerhoeve (by Abanos x Weltmeyer), bred by Philippe Jorissen's father Hugo. The duo ranked third in round one (73.40), second in round two (74.20) and third in the final (74.20).
The Belgian Young Horse Championships also featured a class for the youngest. Francis Carlens' Fitzgerald du Jade (by Sir Schiwago x Dr. Jackson) won the 2-year old Championship and Dominique Mohimont rode her Dutch bred Future Star (by Amazing Star x Future) to victory in the 3-year old championship.
Photo © Temps des Poses
Results - 2013 Belgian Young Horse Championships
4-year olds - final ranking
1. Heylen Tom  - El Capone
2. Mohimont Dominique - El Corona Texel 
3. Verreet Katrien - Quorum Y 
4. Bosman Kara - Don Johnny  
5. Pauluis Larissa - First Step Extasy  
5. Van Laer Nick - Jane Toja   
7. Mohimont Dominique - Espresso W  
8. Van Laer Nick -  Just A Little Bit Krack V/h Klaverhof  
9. Vermeire Pieter - Ewald
10. Heylen Tom -  Jar of Ballmore
5-year olds - final ranking
1. Franckx Tom -  Dolcherie 
2. Vanderbeeken Laurens - All Inclusive
3. Van Laer Nick -  Double Dutch
4. Jorissen Philippe - Special Agent Amour 
5. D'Hoore Brecht - Darcy 
6. Borghys Maarten - Isaura Ter Dolen   
7. Van Oekel Daphne  - Faraon Alegria 
8. Gielen-burger Verena-  Farazzano
9. Vileyn Bjorn- Ile D'Amour v/d Kiekenhoef
10. Van Dun Julie  - Fiderprincess
6-year olds - final ranking
1. Van Laer Nick - Sir Donovan   
2. D'Hoore Brecht - Sniper van de Helle
3. Vanderbeeken Laurens -  Happy-Pia van de Bergenhoeve 
4. De Brabandere Emma  - Chopin 
5. Toussaint Michel -  Fantastique 
6. Cools Isabelle - Coolhorses Cheatodon
7. Reyns Erika - Coryphee LM   
8. Dossin Julie - Cartier 
9. Van Lent-Baetens Sophie - Captain Jack
Related Links
Roberto Cavalli, Zunora, First Junior Win 2009 Belgian Young Horse Championships
Weltmann, Saros and Rosantica, 2000 Belgian Young Horse Champions
Sentio, Rockefeller and Quavarotti win 1999 Young Dressage Horse Circuit