Auction News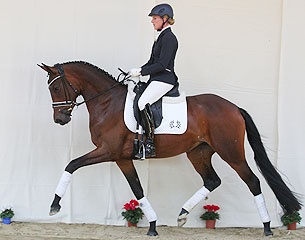 The Trakehner Verband achieved a good result at its auction held on Saturday afternoon 19 October 2013 during the 2013 Trakehner Stallion Licensing. The top selling foal was Homeyer, the top priced mare was Inside, and the top priced sport horse was Standing O' Vation.
Ten mare and stallion foals were sold for a total of 99,700 euro. The top price of 30,000 euros was achieved by Homeyer (by Milennium x Hofrat).  The colt, born in May and bred and owned by  Ilsemarie Peters (Möhne), was sold for 30,000 euro to a buyer from Lower Saxony.  The average price was 9,970 euro.
Ten Trakehner mares were sold at auction for a total of 139,000 euros.  27,000 euro the top price and it was achieved by state premium mare Inside (by Krokant x Connery), bred by Andrea Ritter (Schwanewede) and owned by Frank Scharffetter (Schwanewede). Inside will now take up residence in a stable in Bavaria.  Interested buyers paid an average of 13,900 euro for a Trakehner mare.
The most expensive riding horse in the auction was Standing O' Vation (by Imperio out of Seeconda by Consul), owned and bred by Sabine Oberdieck (Wietzendorf), who went for an impressive 100,000 euros. And stallion Imperio also produced the second most expensive horse at auction: Hannah. The three-year-old mare out of Herzlicht II by Münchhausen is owned and bred by Kristine Gehrmann-Arp (Brodersdorf) and delighted customers from Hamburg, who now have the honour of calling the chestnut mare their own. 
Three-year-old black mare Cera (by Axis x Spirding), owned and bred by Stefan Gerber (Brumby), sold to the USA, while four-year-old mare Polarlicht (by Irdenkreis x Schönbrunn) – bred and owned by Trakehner Gestüt Krotenbach (Altenhof) – found a new owner in Singapore. Trakehner horses are highly desired right across the world.  The 14 riding horses sold in the Trakehner auction went for a total of 390,500 euro. The average price was 27,892 euro.
Related Links
Kissinger, Champion of the 2013 Trakehner Stallion Licensing
Tanzmusik Named 2013 Trakehner Mare Champion
Five Colts Stand Out on Second Day of 2013 Trakehner Stallion Licensing
The 2013 Trakehner Stallion Licensing Kicks Off in the Rain