2013 CDI-W Odense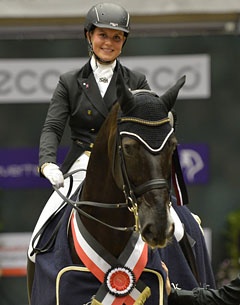 The 2013-2014 Western European League World Cup circuit started on Saturday 19 October 2013 with the Grand Prix at the 2013 CDI-W Odense in Denmark. The Grand Prix class featured 16 competitors and together they made up for a strong group of contestants. The young Danish rider Anna Kasprzak triumphed with Donnperignon, taking first place in the qualifier for the Kur. Isabell Werth and Don Johnson came in second followed by Tinne Vilhemson-Silfven with Don Auriello.
Anna Kasprzak delivered her best Grand Prix to date on Donnperignon scoring 76,979%. Naturally she was very satisfied with the result. "It's the best Grand Prix I have ridden so far and I'm so happy with Donnperignon. Although, I had a good feeling in the warm-up, he felt very fresh – almost a little bit too much, but he did so well in the arena. I'm extremely satisfied with the result and I hope I can continue like this tomorrow," Anna said.
German star Isabell Werth and Don Johnson were last to go in the class but they couldn't keep up with Kasprzak's correct and fluent ride.
"I'm very happy with my ride - I had some stupid mistakes in the zig-zags, but the rest was good. I expected 75 % today, so I am determined to do better tomorrow and will definitely go for the victory," Werth explained after scoring 73,915%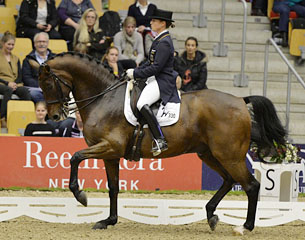 Tinne Vilhemson-Silfven and Don Auriello did their very best to beat Anna Kasprzak but ended up third with 73,511%.
"Don Auriello was really cool in there tonight. It's our first indoor of the season so I'm really satisfied. I think my chances for the freestyle tomorrow are good" she explained.
The World Cup also featured a young Danish debutant, 19-year old Nanna Skodborg Merrald who won kur gold at the 2011 European Junior Riders Championships and made a very successful transition to Grand Prix by winning many U25 classes this 2013 show season.
At their first senior Grand Prix event, Nanna Merrald on Millibar delivered a fantastic ride scoring 71,532%, placing them in the lead until Kasprzaks' ride. It was the young rider's debut among the seniors and the young rider was of course very satisfied and is looking forward to the freestyle.
The Grand Prix featured 16 riders but Australian rider Jessica Greelish was eliminated due to her horse bleeding from the mouth. Therefore all 15 riders qualified for the fresstyle.
Related Links
Scores 2013 CDI-W Odense
A Feast of Fantastic Sport Ahead as 2013-2014 World Cup Dressage Season Gets Underway