2013 U.S. Dressage Championships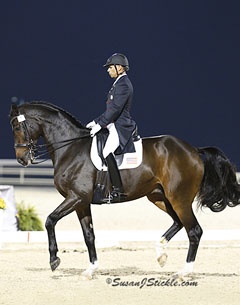 The 2013 U.S. Dressage Championships came to a conclusion on Saturday with the final four champions crowned. In the Grand Prix Championship, Steffen Peters claimed his seventh title in the division under the lights, while earlier in the day Kim Herslow claimed her first National Title in the Intermediaire I Championship. Barbara "Bebe" Davis won the U.S. Junior  Championship title in her first attempt at the annual competition, while Alison Redston led the victory gallop in the US Pony Championship.
West Coast Riders on the Podium at 2013 U.S. Grand Prix Championship
Grand Prix competition came to a conclusion under the lights of the Rolex Stadium as the eight competitors rode their Freestyle tests to earn the remaining 15% of their championship score.
Steffen Peters (San Diego, Calif.) scored a repeat victory with Four Winds Farm's Legolas, as he cruised to an unprecedented seventh National Title in the Grand Prix division. The Olympic veteran pulled out all the stops with the 11-year-old Westphalian gelding as he produced strong piaffe and passage, as well as improved one-time changes. The talented combination concluded their Freestyle with an impressive pirouette in piaffe directly into halt on the centerline as they scored 79.450%.
"This was the best freestyle for sure. He felt great in the warm-up and I just hoped I could do that in the ring," said Peters of Legolas. "Right-off from the first step he felt as supple as in the warm-up. He stayed right with the music. I couldn't be happier."
The pair finished on a championship total of 76.476%.
Looking toward the future and preparation for the 2014 World Equestrian Games, Peters will rely on advice from Chef d'Equipe/Technical Advisor Robert Dover in planning for the future months.
"I have not thought about it," said Peters. "California, Florida, we'll think about it and I'm sure Robert will weigh-in on that."
Earning second place in the Freestyle and Reserve Champion honors overall was Guenter Seidel (Cardiff, Calif.) and Coral Reef Wylea. Coral Reef Ranch's 13-year-old Westphalian mare earned a 76.450% in the Freestyle to finish on a championship score of 72.404%. Despite a mistake in the two-time changes, Seidel was extremely pleased with the mare and believes she improved from Friday night's Grand Prix Special.
"I thought she was great; there was the obvious mistake in the twos but it worked out great. In general, I thought she was better than the night before. Definitely, she felt good."
Earning third place in the championship was Kathleen Raine (Murrieta, Calif.) and her own, Jennifer Mason, and David Wightman's 13-year-old Hanoverian mare Breanna. The pair finished the Freestyle with a score of 70.225% and earned a championship score of 71.213%.

Herslow Wins U.S. Intermediaire I Championship
Herslow (Stockton, N.J.) and Rosmarin narrowly missed sweeping the three tests of Intermediaire I Championship, placing second in Saturday's Freestyle but scoring a decisive victory in the National Championship. Kiroli Enterpirse Inc.'s eight-year-old Hanoverian gelding's score of 75.200% counted for the remaining 15% of the pair's championship average of 75.701%.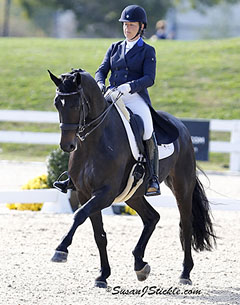 "I went easy on my horse yesterday and just did a really basic ride," Herslow noted. "Today I wanted to have more horse and I think I had a little more than I have had for a little while, but that's okay. I also have to learn how to ride that tension and I felt like I had him a little more up in his shoulders and I had him in a little more expressive frame. But I was a little on edge because we haven't really been going there. But I'm thrilled."
Herslow expressed how proud she's been of Rosmarin (by Rosentanz x Weltmeyer) and how's he's dealt with the pressure of such difficult competition.
"I'm amazed that he came back to showing after having the whole summer off and stepped up to the plate even more than in Florida this past season. I'm really looking forward to the season in Florida this winter and we'll be moving up to the Grand Prix as soon as he's ready."
Caroline Roffman (Wellington, Fla.) and her own Her Highness O finished first in Saturday's Intermediaire I Freestyle test, earning 76.625% and finishing on an overall total of 73.504% as the Reserve Champion. Roffman and her 10-year-old Hanoverian mare performed a powerful test in the Rolex Arena.
"For me, today was the perfect ending to Intermediare I," Roffman said. "She (Her Highness O) showed she's able to compete with the best in the country. She was a blast to ride and it was the perfect way to end, in my mind. Today was perfect."
Emily Jucsher Wagner (La Cygne, Kan.) and Wakeup, her own eight-year-old American warmblood stallion, finished third in the championship on a score of 69.612%.

Bebe David Aces 2013 U.S. Junior Championship
Barbara "Bebe" Davis (Bedminster, N.J.) had another top performance on Saturday morning to claim victory in the U.S. Junior Championship with her impressive mount Rotano. She and her parents', Michael and Sarah Davis, 12-year-old Hanoverian gelding had a lovely test with excellent trot extensions and half-passes to score a 69.000% in the FEI Junior Individual Test. The pair finished the championship with an overall score of 68.771%.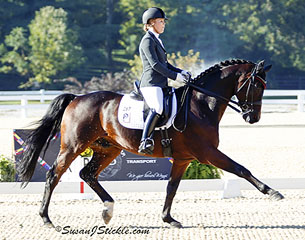 "My ride this morning was really amazing. I couldn't be more thankful for my horse, and for my trainers and my parents for always being there for me," stated Davis. "Moments like this make all of our training and all of our riding totally worth it. He was just such a good boy. He was really there for me and just really trying and listening to my aids."
Davis credits riding at the Pony level with enabling to reach the level she has in her riding. Last year she won the US Pony Championship and has moved up to Junior ranks this year finding much success. Davis believes she has learned a great deal about patience and perseverance while riding the intelligent little creatures.
"I showed two weekends ago at Devon and it was my last ride in the Pony division. I got a little bit emotional on centerline, but I am very happy to see how far ponies have come," Davis said. "I did it the first year when there were only two and this year it is five times the size. It really makes me so happy to see that, that kids are really wanting to do it because I would never be where I am today if I didn't do the ponies."
Lindsey Holleger (Whigham, Ga.) had an improved test with Friedensfurst from Thursday, having beautiful trot extensions, strong canter half-passes, and a nice walk tour. She and the 11-year-old Trakehner gelding scored a 68.079% in Saturday's test to finish with a 67.324% overall in the championship.
"I loved my ride today," said Holleger. "He gave me everything and he was really relaxed, and that's what I wanted to fix from the last ride. He did that and even more and I am really ready for Young Riders next year."
Mallory Kent (Birmingham, Ala.) and Okiedokie slotted into third place in the AGCO/USEF Junior Dressage National Championship with a solid effort, receiving a 66.842% in the FEI Junior Individual Test. She and her own 17-year-old Royal Dutch Warmblood gelding completed the championship with a 66.219%.
The girls thanked their families, trainers, and sponsors, as well as being appreciative of the show management and volunteers.

Redston On Top in 2013 U.S. Pony Rider Championship
Alison Redston (Needham, Mass.) swept the Pony division with her own Tony. She demonstrated a solid test with the 13-year-old German Riding Pony gelding to score 66.683% in the FEI Pony Individual Test. The pair won the National Championship with an overall score of 66.303%.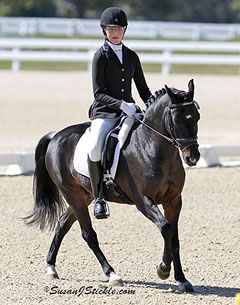 "I thought our test went pretty well," said Redston. "Throughout the test he was more relaxed, especially compared to the awards ceremony the day before. I felt like it let out some of his energy and it also had a feeling that it was more like a regular show. He was much more relaxed and could be himself."
Redston is thrilled with her results and has no regrets about getting into the discipline of dressage after this weekend.
"I got into dressage because whenever I would jump, I would fall on my face, which was never fun. I always like to watch it (dressage) and I would be like, 'Wait, how did they do that?' and I wanted to learn about it and learn how to do it like those people who do things that seem impossible."
Finishing in second place in the division were Madelyn Guthrie and Jordy. Guthrie (Westmont, Ill.) and her own 15-year-old Welsh Pony gelding presented a solid ride to score 64.026%.
"Our ride had a lot more energy than yesterday," Guthrie commented. "After our last test we knew we needed to improve the energy level a little bit to improve all the movements as well. I think some of our highlights today were the medium and extended trot as well as the canter and we just really upped our game and knew we wanted to strive to be better. Jordy did really well and was there for me."
Savannah Rose Franklund (Boulder, Colo.) rode into third place with CF Godiva Chocolate. She and her own 13-year-old American Quarter Pony gelding finished with an overall score of 63.384%.
Photos © Sue Stickle
Related Links
Scores 2013 U.S. Dressage Championships
Wagner and Uhlir Score National Titles at 2013 U.S. Dressage Championships
Herslow, Uhlir, Davis In Winning Mood on Day 2 at 2013 U.S. Dressage Championships
Peters, Herslow, and Wagner Take First Steps Toward 2013 U.S. Dressage National Titles
2013 U.S. Dressage Festival of Champions Ready to Begin