2013 CDI Tallinn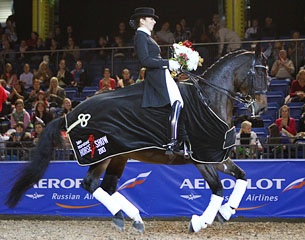 Bringing Estonian dressage into the spotlight the 2013 CDI Tallinn on 4 - 6 October 2013 celebrated its fourth successful CDI edition at the ever-expanding Universal Hall complex in Tallinn, Estonia. Hometown girl Dina Ellermann took center stage to win the Intermediaite I and Inter I kur to music.
Aboard her Grand Prix horse Landy's Akvarel (by Landcruiser x Noble Champion), Ellermann dropped back to small tour level for the occasion and scored a winning 68.246% and 71.625%. She was followed by Finland's Ella Tanhuanpää for a double runner-up with 65.482% and 70.167%.

"My mare was really good and felt much more confident than she did at this competition last year," says 32-year old Dina. "She is not yet very used to performing in front of a big audience but because we plan to compete next week at the Helsinki International Horse Show at the CDI three-star. I thought this was a good chance to introduce her to that kind of atmosphere."
Very pleased with her double gold, Dina felt her mare was a little better on the second day as she gained that little bit more confidence in the ring. "We arrived together at the happy conclusion that it is not so horrible at all to see all the people around, particularly when they are cheering you on," she said.
Landy's Akvarel, a 10-year old Estonian Sport Horse, was originally a jumping mare but is proudly now the first ESH to compete at Grand Prix level. "She is a really special mare for me as she always tries so hard to read my mind. She is also very sensitive and I talk a lot with her during the warm-up to convince her, that everything is fine and there is nothing to worry about and then after that she is really calm and happy."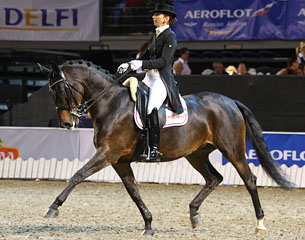 Using the Tallinn experience to get a good preparation for Helsinki, Dina was pleased to note how well the Tallinn show was organised and has heard only positive words spoken about the overall running of the event. 

Beginning her dressage career in Tallinn, Dina now trains with Alla Gladysheva and will continue perfecting last year's now-fulfilled dream, to ride Landy`s Akvarel in the Grand Prix. "We reached our goal and I really think that for the first year at Grand Prix level we were pretty successful."
Taking second place for Finland, Ella Tanhuanpää and her 12-year old gelding Eliko enjoyed their big time debut, particurlarly as Eliko loves very much to be on show. "Eliko is a great showman and he enjoys being in front of the crowd," said 20-year old Ella. "This was my first time in such a big arena and Eliko was also a little bit surprised when he saw the big screen on the short side. Because of that little tension we did make a few mistakes on Friday but on Saturday we did a really great round with no mistakes. I was so happy after my freestyle on Saturday that I almost cried."
With Eliko perfectly with her during the test, Ella felt that as the test ended he knew he had performed well and really took all the applause for himself. "I was happy that there were so many people interested in dressage. At shows in Finland there are normally only riders' relatives in the audience."
With three young horses also in work, Ella trains with Lilli Luoma everyday, as well as once a month with Pether Markne. "Last winter I spent over 5 months in Germany training with Jonny and Anika Hilberath, which really boosted me and helped me make this start at international competition. I have had Eliko for three years now and we hope to do the dressage future cup final and small tour final in Helsinki."
After Helsinki, Ella will travel to the Finnish indoor championships and then on her other life goal of getting into medical school next year.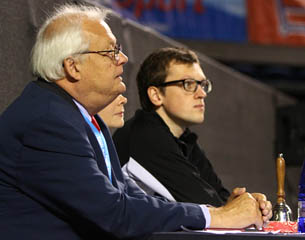 Delighted to provide dressage talents like Dina and Ella the opportunity to compete on Estonian soil, judge Eva Maria Vint-Warmington stated that this competition is a one-of-its-kind in their region. She feels it will help give these riders get the experience they need on a big stage. "I can sympathize with the riders, as it is quite difficult for the horses who are not used to big crowds and the electric indoor arena atmosphere. We saw some good tests, especially on the second day of the competition, when the horses started to settle down and show their true colours," said Eva.
Proud to watch Dina and Ella perform, Eva was particularly taken by these two girls' exciting freestyles. She believes that Dina earned the first place because of a higher degree of difficulty and a nice forward energy throughout the ride. Another Estonian pair, Getter Kangur and Palladion, have been competing at the Young Rider level and Intermediate I," so it was a bit more of a stretch for them but they also came out with respectable rides on both days and made the home audience very proud with a third place in both classes," Vint-Warmington explained.
Due to mostly technical reasons the dressage classes had a very limited number of riders entered this year. Still Vint-Warmington is happy that the general level and the winning scores were the highest that this competition's 4-year run has ever seen.
by Sarah Warne for Eurodressage
Photos © Külli Tedre
Related Links
Scores 2013 CDI Tallinn
Estonian Dina Ellermann Taking it One Step at a Time