2013 British Horse of the Year Show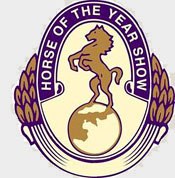 Dressage made a welcome return to the 2013 British Horse of the Year Show on Wednesday night 9 October 2013 with the inaugural Mount St John Future Elite Championship.  Seven of Britain's emerging equine stars, all aged seven to ten, came together for an Inter I Freestyle competition and the winner was Michael Eilberg riding Jon and Julie Deverill's Half Moon Dynasty.
Dynasty was making her Inter I Freestyle debut, quite the occasion to do it on!  One of the highlights of the overall result is that the top three horses are all British-bred!
In its normal life, our venue is the LG Arena, home to concerts, so the acoustics were amazing and some riders really chose great, powerful music.  Coupled with stunning lighting, it was superb stage for dressage.  Three top judges were invited in Dutch Team Trainer Wim Ernes, FEI 'O' Judge Isobel Wessels and BD International Director David Trott and after every few horses, they were interviewed for their take on the performances, a really interesting touch.
Emile Faurie got the evening underway with Julie Bradley's Oldenburg stallion Smash Hit, by Sandro Hit.  Standing 17.2 and jet black in colour, Smash Hit creates quite an imposing picture in the arena and although together just two years, he and Emile are a strong partnership.  This was 10 year old's Inter I debut and there were a few green moments but the potential is there.  A score of 69.75% got the competition off to a cracking start and judge Wim Ernes said; "It was a nice, relaxed test, I really liked the way of going.  The horse was soft and light on his feet."
Next in was Alice Oppenheimer with her home-bred Dimaggio-sired Headmore Delegate (pictured below).  Although just ten, 'Del' has been competing at grand prix for two seasons and, on paper, was the most experienced in the field. Together they've won ten regional and four national titles.  Their programme was very technical and near perfect in execution and a score of 74% took a comfortable lead.  "I came here fully intending to put my foot down and go for it!  Sometimes that works, sometimes it doesn't; tonight it did.  He's very established at this level, really it's almost a step down for him as his been at grand prix for a while now.  I suppose it's a good thing as I got my dates mixed up and I only got back from holiday yesterday so haven't had much time to practice!  I'm really pleased with the way he's coped too – it's not every show you're stabled next to the Kings Troop and meet scurry ponies on the way to the arena!"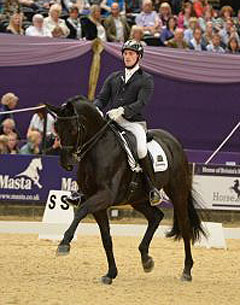 Then it was the turn of newly crowned national Fairfax prix st georges champions Spencer Wilton and Goodmans Supernova.  Owned by Jennifer Goodman, 'Neville' entered the arena with a degree of apprehension and was clearly unsettled.  Ever the sympathetic rider, Spencer didn't put the De Niro 10 year old under too much pressure but still managed a powerful performance to score 73.5% under difficult conditions.  Judge Isobel Wessels commented afterwards; "That horse certainly has the wow factor; he's poetry in motion.  He's a young horse and the atmosphere got to him a little but it was beautifully ridden by Spencer."
Fourth to go was Sarah Millis with the eye catching chestnut Furst Rubin who scored their first international win earlier this year at Vidauban CDI3* in the prix st georges.  The nine year old, by Furst Piccolo, looked a bit taken aback by the imposing arena but Sarah rode him forward and he responded.  There was a slight miscommunication in one canter pirouette and he just stopped and walked but, in the words of judge David Trott, 'truly freestyled her way and cleverly managed to fit another in her programme'.  She finished with a powerful extended trot down the centre line to finish on a high.  71.62% was their score.
It was then the turn of Dan Greenwood and the Londonderry-sired Lennox, owned by Clare Poole.  The combination made their international small tour debut the year at Hartpury CDI3* but this was their first Inter I freestyle attempt.  Dan had enlisted the help of a 'local lady' to help with his music and what a good job she did!  To describe the trot work as 'upbeat Swan Lake with pan pipes' is accurate but does it an injustice – it was great for the horse.  The canter music took a modern twist – almost 'drum and bass' but again very suitable and it put a smile on your face.  Their floor plan was interesting with some green mistakes but the potential is clear.  A score of 72.92% gave them third spot at that stage of the competition.
It had been hoped that Michael Eilberg might bring Woodlander Farouche to compete but the world-class mare wasn't quite ready for a competitive Inter I outing but Michael did elude that she'd be making a trip to HOYS in the Eilberg Masterclass on Friday.  He elected to bring the British-bed Half Moon Dynasty, owned by the Deverills who run Half Moon Stud at their home in Dorset.    'Molly' as she's known already has a few titles to her name having won the Dressage Deluxe Medium title at the 2012 National Championships and the Charles Owen Advanced Medium title and this year's NAF Five Star Winter Championships.  She qualified for the Saracens Inter I Championship at the Nationals this year and finished a creditable sixth in a strong field.  However, she's only actually done a handful of competitive tests at Inter I and this would be her freestyle debut.  Michael rode the nine year old Dimaggio mare in a strong floorplan which showed her strengths well.  Wim Ernes commented after; "He gave the mare a nice soft ride and showed off to his best.  This horse has everything."  A score of 74.6% gave them the lead.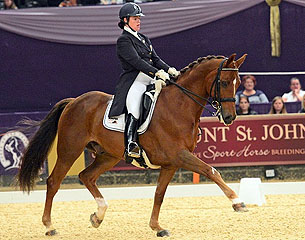 The final rider was Matt Hicks who hadn't had the best preparation for the class.  Becky Moody was brought in to replace Charlotte Dujardin last week but then she was forced to withdraw so, at 8:00am on Wednesday, Matt got a call to come to Birmingham!  The lorry was already out at a competition so was summoned back, Excalibur made ready and they set off.  Owned by Anny Bachrach, Excalibur has been with Matt for five seasons and this is his first year at small tour level as he's given the giant time to mature.  They were third at the Hickstead Premier League show in the Inter I with an amazing score of 76% which earned them a wild card to the Nationals.  Matt didn't even get chance to do any arena familiarisation with the 17.2hh Ehrentush sired gelding so anything could have happened!  Fortunately, Excalibur's amazing temperament shone through and coupled with the fact that Matt never gives less than 100%, they scored 71.67%.
So the victory and first Mount St John Future Elite title went to Michael Eilberg and Half Moon Dynasty.   A delighted Michael said; "I'm delighted with how she coped with the whole experience.  We decided not to stable as we're only half an hour away but she doesn't settle well on the lorry.  We bought her for the arena walk and then decided to bring her a buddy tonight which made her more relaxed.  Riding in an arena like that is a little bit of an unknown with an inexperienced horse but she really coped well.  She's ready to go on now and she has a great future ahead."  Pictured are Jill and Emma Blundell from Mt St John presenting to Michael and Molly.
Second was Alice with Headmore Delegate meaning our top two were sired by Dimaggio and third went to Spencer with Goodmans Supernova.
Results - 2013 British Horse of the Year Show
1. Michael Eilberg  - Half Moon Dynasty - 74.54%
2. Alice Oppenheimer  -  Headmore Delegate  -  74%
3. Spencer Wilton - Supernova -
4. Dan Greenwood  -  Lennox  -  72.92%
5. Matt Hicks -  Excalibur - 71.67% 
6. Sarah Millis -  Furst Rubin  - 71.62%
7. Emile Faurie -  Smash Hit  -  69.75
Photos © ES Photography and Kevin Sparrow
Text by British Dressage
Related Links
Developing PSG Horse Class Hosted at 2013 British Horse of the Year Show
Davison and Hiscox Artemis Shine at 2010 Horse of the Year Show