2013 U.S. Dressage Championships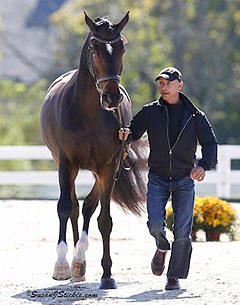 Top riders from across the U.S.A will contend for six U.S. Dressage National Championships at the 2013 U.S. Dressage Festival of Champions. This year the championships are being held for the first time at the Kentucky Horse Park in Lexington, Ky., taking place October 8-12. Veteran competitors as well as newcomers to the championships make up the field of 59 who will ride down the centerline in the Rolex Stadium.
An elite field of eight riders will vie for the 2013 U.S. Grand Prix Dressage Championship title. The 2012 U.S. Grand Prix Dressage National Champion Steffen Peters (San Diego, Calif.) looks to defend his title with Legolas, an 11-year-old Westfalian gelding owned by Four Winds Farm. The pair has had top performances on both the East and West Coast this year, as well as abroad. A win here would mark Peters' seventh U.S. Grand Prix Dressage National Championship title. However, he will face stiff competition from the country's top riders.
Guenter Seidel (Cardiff, Calif.) will ride Coral Reef Wylea, after having several excellent performances with the 13-year-old Westfalian mare owned by Coral Reef Ranch this year. The pair claimed second-place finishes in the Grand Prix and Grand Prix Special at the Lingen CDI4*. Kathleen Raine (Murrieta, Calif.) will also aim for a first-class showing with Breanna, a 13-year-old Hanoverian mare owned by Jennifer Mason, David Wightman, and herself. Raine and Breanna, along with Seidel and Coral Reef Wylea, helped the U.S. score a second-place finish in the Hickstead CDIO3*.
Kimberly Herslow (Stockton, N.J.) leads the field of 12 riders contesting the 2013 U.S. Intermediaire I Dressage National Championship. She and Rosmarin, an 8-year-old Hanoverian gelding owned by Kiroli Enterprises Inc., recently swept the Intermediaire classes at Dressage at Devon and plan to maintain their winning form. Shelly Francis (Loxahatchee, Fla.) and Danilo will pose a threat as they have had a stellar year. The 9-year-old Hanoverian gelding owned by Patricia Stempel has gained valuable experience competing in Europe over the summer. Twenty-five year old Caroline Roffman (Wellington, Fla.) won the championship last year but brings a different mount this year. She will ride her own Her Highness O, a 10-year-old Hanoverian mare, with whom she earned two second-place finishes at the Compiegne CDI3* this summer.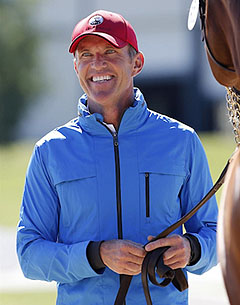 The U.S. Under 25 'Brentina Cup' Dressage National Championship has six entries in what will be a tight race for the national title. The  'Brentina Cup' Program was developed to assist and encourage U.S. Young Riders in making the transition to Senior Grand Prix competitor. Kristen Becker (Athens, Ga.) brings her own Ramses, a 15-year-old Royal Dutch Warmblood gelding, with whom she has won numerous Young Adult 'Brentina Cup' Tests this year.
Eleven riders will compete in the U.S. Young Rider Dressage Championship, with Ayden Uhlir (Kirkland, Wash.) leading the field. She and her own Sjapoer, a 14-year-old KWPN gelding, return to the Kentucky Horse Park after winning Individual and Freestyle Gold medals and the Team Silver medal at the 2013 North American Junior & Young Rider Championships presented by Gotham North (NAJYRC).
Lindsey Holleger (Whigham, Ga.) leads the field of 11 that makes up the U.S. Junior Dressage National Championship. She and her own Friedensfürst, an 11-year-old Trakehner gelding, also found success here during NAJYRC, winning a Junior Individual Gold medal.

The US Pony Championship's 11 entries rounds out the 2013 U.S. Dressage Festival of Champions. Emma Patterson (Houston, Texas) and her own Wynshire's Valiant, a 14-year-old Welsh Cob gelding, will be aiming for their first national title after having solid performances all year.

In addition to exceptional competition, the Dressage Celebrity Mounted Games will be held prior to the start of the Grand Prix Freestyles on Saturday, October 12, featuring competitors participating in pony relay races as a fundraiser for the U.S. High Performance Dressage programs.
Photos © Sue Stickle
Related Links
Lexington to Host 2013 U.S. Dressage Championships
USDF Board Approved 2013 U.S. Dressage Finals
Dates and Locations for 2013 USDF Regional Championships Announced