British Warmblood Breeding News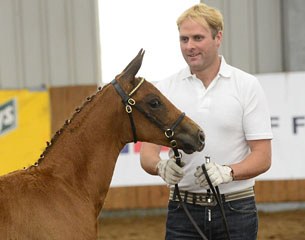 The 2013 British Equestrian Federation (BEF) Futurity series has seen some outstanding British bred young dressage horses. Young horses from foals to three year olds have been evaluated for their potential in one of the main disciplines (dressage, eventing, showjumping and endurance).
Futurity dressage evaluator, Jo Dixon said, "I have been particularly impressed this year by the high number of spectacular young British Bred dressage horses that have displayed wonderful 'form' and 'function' and could equally rival, even better their European counterparts. I feel truly honoured to be a part of the BEF Futurity programme, and to be witnessing first-hand the emergence of such quality British bred sports horses. I am really looking forward to seeing the progression of these horses throughout their careers, and would strongly encourage all those thinking of investing in a young sports horse to shop at home first".
Jennie Loriston-Clarke said, "I find it very exciting to see some of the quality young stock which I assessed this year. It is good to find that the Elite we have here would stand up with the best in the World. Well done to the breeders!"
Foals topped the 2013 Futurity dressage scores. Alison Walton's colt foal, Simbambili took the highest dressage score awarded, an elite premium of 9.43. Simbambili is by Alison Walton and Lynne Crowden's young stallion, Supertramp, out of a Florencio mare, Cayenne D. The evaluators commented on the correctness of his trot for dressage. They went on to say he has "Very good suspension and balance with good natural carriage and a big stride. He creates a harmonious picture". Simbambili has now been sold to a competition home.
Filly foal, Desire gained an elite premium of 9.42 for breeder and producer, Darren Mattia from Hereford. Desire is out of Darren's mare, Apple, by Fidertanz. He said, "I am over the moon with her. Apple has a really good damline, her grandmother is related to former German team horse, Piccolino. Desire is by Dimaggio who is my all-time favourite stallion". Desire has now been sold to a syndicate of Tim Webb and Chris Williams through Sara Bunch of Mane Equestrian Services. Sara said, "Desire will stay at Court Farm and will be produced by Darren and then sold to a competition home as a three or four year old. I am looking to put together syndicates of owners to buy fantastically bred horses which will grow up to be correctly produced and trained and then sold. We are very grateful to Darren for breeding such a wonderful foal".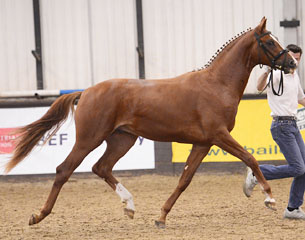 Desire is the third youngster Darren has gained an elite premium with at the 2013 BEF Futurity. He also produced Sandy Senior's top scoring three year old Dimaggio colt, GF Dusautoir to earn an elite premium of 9.23 and Lindsey Roberts' colt foal Frank Sinatra who attained an elite premium of 9.23 both at the Hartpury College Futurity. Sandy said, "Darren has done a fantastic job with Dusautoir, he will start backing him now and all going well he will go for his stallion license in September. He also gained an elite premium as a foal and so will be considered for the equine bridge".
The Futurity Equine Bridge is a new initiative for 2013 and will run as an extension of the Futurity evaluations. The Futurity Equine Bridge seeks to provide top Futurity graduates with the direction and support they will need as 4 and 5 year olds so that they begin their early years under saddle in a way that allows for sustained physical and mental development. In order to be eligible for the Futurity Equine Bridge all horses must obtain two scores of 8.5 or above, one of which must have been obtained in their three year old year.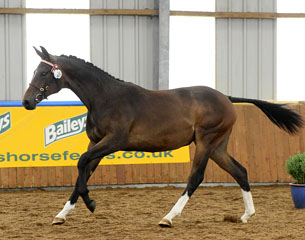 Two year old dressage colt, Woodlander Wild Child headed his age group for the dressage entries (9.39) for owners and breeders, Lynne Crowden, Geraldine Eilberg and Alison Walton. As a foal, Wild Child scored a Futurity elite premium of 9.79. This embryo transfer son of two time World Young Horse Champion Woodlander Farouche is by Lynne's homebred stallion, Woodlander Wavavoom. Lynne said, "It is a great result for Wild Child and he has sustained the promise he showed as a foal. I am delighted, particularly as I bred his mother and father. We are planning that Wild Child will stand as a stallion and compete as well".
Best scoring dressage yearling was Sally Barnes', Keystone Rhea, who gained an elite premium of 9.33. She was bred by Suzanne Lavandera-Davies from UK Hanoverians in West Sussex. Suzanne said, "Sally wanted to buy one of the other foals we had, but as soon as Rhea was born she bought her". Keystone Rhea is by Keystone Rhondeo, out of a mare, Donna Dina, by Dimaggio. Sally said, "I am delighted with Rhea's Futurity result. We will take her back to the Futurity next year and I am keen to get her on to the Equine Bridge. I will produce and ride her myself".
Best dressage three year old, GF Dusautoir (9.23) is another horse that earned his second elite Futurity premium this year. GF Dusautoir is by Dimaggio and out of a mare, Byzantia who is by Biotop. Sandy said, "I am thrilled with Dusky, I bought his dam to breed from and so far we have some lovely young horses. Dusky is also the full brother of former National elementary champion and licensed stallion, GF Deville".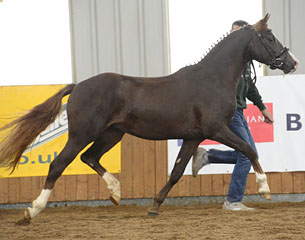 Sports pony, two year old, Woodlander Wales was best Futurity sports pony for the second time in 2013 with an elite premium of 9.30 for owner and breeder, Lynne Crowden. Wales is out of Welsh Pony and Cob Society registered dam, Drysiog Helen who is by Talon Teifion. He is by successful dressage stallion, Woodlander Wavavoom. Lynne said, "He is wonderfully consistent and will shortly go for stallion licensing for the British Warmblood Society and Sports Pony Studbook Society. We will stand Wales at stud next year, he will hopefully go to a talented young rider and become an FEI pony".
The BEF's Head of Equine Development, Jan Rogers, said: "The futurity continues to grow and be shaped by feedback we receive and is developing into an assessment the British horse world recognises as a valuable indicator of future performance talent".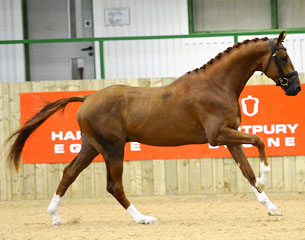 With entries limited to 60 at each evaluation venue, places at the Futurity are keenly sought after. Entries are categorised by discipline with age groups for foals, yearlings, two and three year olds and each horse is evaluated in hand and loose in a safe indoor environment as well as undergoing a vet's assessment.
The BEF Futurity Evaluations are held at 16 venues throughout the UK and young horses go home with a BEF Premium (grade), a stylish rosette and a detailed, informative score sheet. An attractive certificate to keep and frame follows on after the event. All results are published on the fully searchable British Breeding website. www.britishbreeding.org.
Photos © Kevin Sparrow
Related Links
Six Elite Premiums Awarded at 2013 BEF Futurity in Hartpury
BEF Futurity Evaluations Announced for 2013
2013 BEF Futurity Dates and Venues Announced