American Dressage News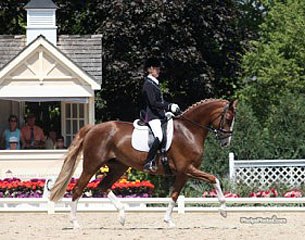 The United States Equestrian Federation (USEF) has allocated the 2014 U.S. Young and Developing Horse Dressage Championships to the Lamplight Equestrian Center in Wayne, Illinois. The date has been set for 20 - 24 August 2014.


The U.S. Young Horse Dressage Program (for 4-, 5-, and 6-year-old horses) promotes the importance of selective breeding and correct training of horses in the United States, and encourages participation of breeders, riders, and trainers of young horses in dressage competition. The purposes of this program is to encourage the properly structured development of young dressage prospects through the training scale, to identify and recognize outstanding talent and the training of international-caliber horses, and to prepare these horses for future careers at the FEI level and participation on U.S. High Performance teams.

The U.S. Developing Dressage Horse Championship is for 7- to 9-year-old horses competing at the FEI Prix St. Georges level and for 8- to 10-year-old horses competing at the Grand Prix level. This program is part of USEF's initiative to recognize up-and-coming dressage talent for High Performance - not only for riders, but also for horses.
Photo © Mary Phelps
Related Links
Rebellienne, Fashion Designer, Vitalis Win 2013 U.S. Young Dressage Horse Championships
Zandor Wins 2013 U.S. Developing Grand Prix Horse Championship