2013 French Dressage Championships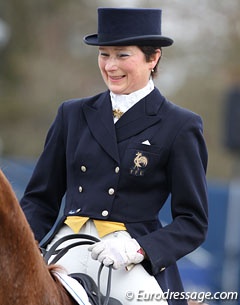 Catherine Henriquet won the French Grand Prix dressage Championship held during the (Grande Semaine( (The Big Week) of French dressage and breeding Championships held at the national equestrian centre in Saumur, France, on 26 - 29 September 2013. Henriquet only narrowly edged out Julie Chevanno who ended up with silver. Claire Gosselin earned bronze.
Catherine Henriquet and Julia Chevanne held a tough duel in Saumur battling it out in each of the three championship classes. Chevanne and her 17-year old Hanoverian gelding Luciano (by Le Beau x Wandergesell) won the Grand Prix with 69.681% and the Special with 70.666% but in the Kur to Music Henriquet and her 13-year old Saxonian gelding Paradieszauber (by Paradiesvogel x Kolibri) aced the class with 74.375 and was able to gain a small overall pointadvantage. With 214.298 points Henriquet got the gold and Chevanne earned silver with 213.847 points.
Claire Gosselin and her 15-year old liver chestnut French warmblood Karamel de Lauture (by Gribaldi x Donbito van de Helle) were always on the top duo's heels, scoring 69.106% in the Grand Prix, 70.479% in the Special and 73.400% in the Kur. This earned them the bronze.
French team riders Jessica Michel and Marc Boblet, who produced the best scores for their country at the 2013 European Dressage Championships in Herning (DEN) last month, were absent from the Nationals as they were still resting their horses.
Photo © Astrid Appels
Results - 2013 French Grand Prix Championships
1. Catherine Henriquet - Paradieszauber - 69.361 - 70.562 - 74.375 --- 214.298
2. Julia Chevanne - Luciano - 69.681 - 70.666 - 73.5000 --- 213.847
3. Claire Gosselin - Karamel de Lauture - 69.106 - 70.479 - 73.400 --- 212.985
4. Ludovic Henry - After You - 67.723 - 67.833 - 71.275 --- 206.831
5. Laurence Sautet - Ralo - 67.808 - 69.208 - 69?225 --- 206.241
6. Alizee Froment - Mistral du Coussoul - 67.404 - 66.562 - 71.125 --- 205.091
7. Pierre Volla - Zenith de Pessel - 65.063 - 65.750 - 67.375 --- 198.188
8. Jean Philippe Siat - Tarski van de Zuuthoeve - 64.957 - 67.104 - 63.325 --- 185.386
9. Sarah Casanova - Ulan - 64.319 - 64.146 - 65.850 ---- 194.315
10. Laurence Blaya - Galliano - 63.808 - 66.687 - 61.200 --- 191.695
Related Links
Jessica Michel Wins 2012 French Grand Prix Championships
Arnaud Serre Renews Title at 2011 French Dressage Championships
Arnaud Serre Captures 2010 French Grand Prix Title on Corellou's Helio II
Siat and Collier Win at 2009 French Dressage Championships
Marc Boblet, 2008 French Dressage Champion
Karen Tebar Wins the 2006 French Dressage Championships
Hubert Perring, 2005 French Dressage Champion
Odile van Doorn Reconquers French National Dressage Title 
Scores 2003 French Dressage Championships 
Van Doorn and Parodie van de Wateringhoeve, 2002 French Dressage Champions
Marietta Almasy, 2001 French Dressage Champion