2013 British Dressage Championships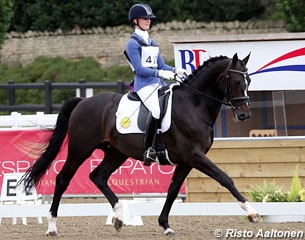 The 4-year old Eldorado and the 5-year old Romanno Stromboli became the winners of the 2013 British Young Horse Championships which were held at the National Dressage Championships in Stoneleigh, Great Britain, on 20 - 22 September 2013. In Great Britain, the young horse classes are named "Potential International Dressage Horse" class and 13 finalists in total competed in the finals at Stoneleigh this year.
Always a highlight for the knowledgeable Stoneleigh crowd on a Sunday is the final judging of the International Dressage Horse Championship and this year it was interesting as there was no clear favourite so the title was anyone's for the taking from the 13 who came forward from Saturday's preliminary judging.
In the four year olds, judges Peter Holler and Hans Christian Mattieson made their champion Emma Woolley with the impressive Dutch-bred Eldorado (by Special D x Damiro) owned by Jane Woolley.  The horse was first yesterday in the preliminary judging with a score of 7.68 and the judges kept him up top.  Second also was a horse of Emma's but with trainer Hannah Esberger in the plate as she could only ride one today, Jan Bennett's Don Fulcher (by Daddy Cool x Abraham).
The five year olds didn't quite go to Saturday's pattern when Dan Greenwood was awarded first with his own and Jamie Reynolds's Romanno Stromboli (by Sir Donnerhall x Fabriano) having been down in fourth after the first judging round.  Second spot went to Saturday's winner, Sam Geddes' Dior III ridden by Tom Goode, who's based with Emilie Faurie, the only horse to score over 8.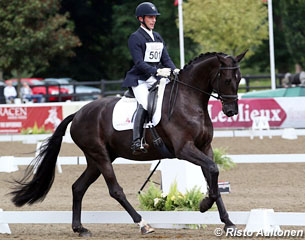 The four then came forward for the final judging for the championship.  In addition to the opinions of Peter and Hans Christian, our ride judge Erik Theilgaard then entered the mix with his take on the horse's paces, way of going and feel.  It was a very different selection of horses – different shapes, variations of pace and manner which made for interesting viewing.  All four gave Erik a safe ride but he was clearly suited to the two winning horses and seemed 'at home'.  Romanno Stromboli showed great variation in the paces and great poise whereas Eldorado was, at a year younger, more 'raw' and exuberant.  Don Fulcher was a picture of composure and clearly has endless potential; the judges describing him as 'functional'.  Dior III is a powerful 'pocket rocket' at just 16.1hh but what he lacks in size, he more than makes up with exuberant paces which Erik seemed to enjoy; 'He's just like a rubber ball!" he said.  The three judges then went into a huddle while the crowd waited with anticipation.  The when the commentator announced Dan Greenwood and Romanno Stromboli, there was a great cheer from the crowd and the biggest smile of the championships on Dan's face.
A clearly delighted and proud Dan commented; "He was great today.  He came into the final in fourth so we knew there was making up to do.  As it was his second time in the arena he was more relaxed and then he can show himself better.  And that's basically how we manage him at home.  He can lack confidence but given the chance, he grows into it."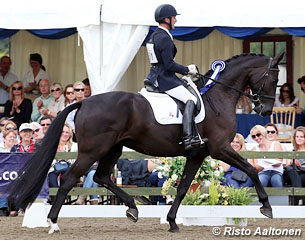 Dan explained a bit more about his background and how he got his name; "He was conceived in Germany but his dam was bought by Jenny Gilchrist so effectively he's British-bred .  We've had a few foals from her and when she rings to say she's got a good one, she means it!  And he's a good example.  He's so straight forward and has been easy from the very start.   Alan Davies, Carl Hester's travelling groom raised him until he was three and then he came to us to start his career.   We named him Ollie to start around the time it was time to find a show name; we were on a cruise in the Mediterranean near Sicily and happened to go to Stromboli.  Being volcanic, it's big and black so we had our name!"
Four busy days for Dan and his team ended with just reward; "I'm so pleased he's done it after coming so close as a four year old last year.  He's a big horse so we'll see how he develops over the winter before making a decision on what to do.  Six year old classes are an option or maybe we just into straight tests.  It's been a great Nationals for us; we bought this horse and the chestnut which won the prelim championship on Thursday as foals and now they've both won titles as five year olds - I'm a proud daddy today!"
Results - British Young Horse Championships
4-year olds
1. Woolley, Emma  - Eldorado -    
2. Esberger, Hannah -  Don Fulcher   
3. Oppenheimer, Alice  -  Headmore Dirubinio
4. Bates, Michael -  Duberry  
5. Wagstaff, Carol - Premier into the Black          
6. Blundell, Emma  -  Freestyle 
5-year olds
1. Greenwood, Daniel  -  Romanno Stromboli    
2. Goode, Tom -  Dior III  
3. Wollen, Laura -  Hawtins Delicato     
4. Williams, Sarah - Amo II  
5. Stovold, Amy - Louboutin
6. Perry, Anne Marie - Keystone Dimaggico 
7. Chapman, Melissa - Dynamo
Photos © Risto Aaltonen
Text by British Dressage
Related Links
Carl Hester Brings Tally to 66 at 2013 British Dressage Championships
Wilton and Eilberg Take First Titles at the 2013 British Dressage Championships
Scores: 2013 British Dressage Championships