Hanoverian Breeding News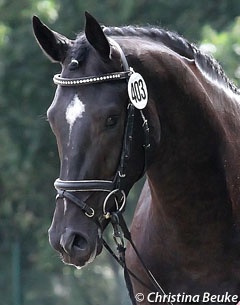 The Hanoverian Licensing committee has made its pick of colts which are allowed to participate at the 2013 Hanoverian Stallion Licensing in Verden on 24 - 26 October 2013.
The Hanoverian stallion pre-selections started on 10 September and concluded 10 days later. Pre-selection days were held at no less than 22 different locations and they were at Freiburg, Neuhaus, Cuxhaven, Dorum, Dobrock, Stade, Winsen/Luhe, Oetzen, Nienhagen, Hoya, Barver, Bersenbruck, Wallenhorst, Loningen, Meppen, Filsum, Wallmoden, Alsfeld, Hollenstedt, Hepstedt, Kirchwalsede, and Monchengladbach.
Especially many F-line stallions, with sires such as Floriscount, Furst Romancier, Furst Nymphenburg and Furstenball, all well represented in this crop for the 2013 licensing. Also Desperados has several offspring qualified.
The stallions invited to the 2013 Hanoverian Licensing are:
Belissimo M    Natiello xx    Calypso II
Dancier    Rotspon    Lauries Crusador xx
Belissimo M    Wolkenstein II    Pinkus
De Niro    Weltmeyer    Feiner Stern
Royal Classic    Don Davidoff    Warkant
St. Moritz Junior    Lord Sinclair I    Donnerhall
Diamond Hit    Lauries Crusador xx    Lemon Tree
Diamond Hit    Walzertraum    Eiger II
United    Stedinger    World Magic
Belissimo M    Weltmeyer    Argentan
St. Moritz Junior    Wolkenstein II    Matcho AA
Coupe de Coeur    Raphael    Bormio xx
Desperados    Lanthan    Akzent II
Fidertanz    Rohdiamant    Laibach
Floriscount    White Star    Argument/T.
Sarkozy    Desperados    Rotspon
Valentino    Contendro I    For Pleasure
Mighty Magic    Escudo I    Don Juan
Quintender    Embassy I    Lincolm L
Quaid I    Raphael    Polydor
Stakkato    Athletico    Werther
Castino    Calido    Landfriese II
Coupe de Coeur    Wogenbrecher    Gardeulan II
First Dance    Wolkenstein II    Barsoi xx
Fürstenball    Dacaprio    Wolkenstein II
Quaterback    Rosentau    Weltmeyer
St. Moritz Junior    Don Schufro    Atatürk
Stakkato    Cornet Obolensky    Graf Top
Quaid    Calido    Calypso
Belstaff    Londonderry    Dream of Glory
San Bernadino    Lauries Crusador xx    Weltruhm
Uccello    Cranach    Simply Spruce Meadows
Bentley    Londonderry    Falkland
Bonaventura    Graphit    Goodwill
Dancier    Weltmeyer    Airport
Diamond Hit    Likoto xx    Weltmeyer
First Dance    Wolkentanz    Brentano II
Floriscount    Stedinger    Rotspon
Fürst Romancier    Lauries Crusador xx    Argentan
Fürstenball    His Highness    Werther
Fürstenball    Belissimo M    Daidalos
Quintender    Escudo II    Pablo
Dancier    Metternich    Abajo xx
Flatley    Lamoureux I    Phönix
Floriscount    Lauries Crusador xx    Wolkentanz
Fürst Romancier    Londonderry    Rimini
Livello    Calypso II    Gardekuerassier
Lord Pezi    Stakkato    Ramiro
Ampere (NLD)    De Niro    Eklatant
San Amour I    Florestan I    Donnerschlag
Lord Z    Calido    Gambler's Cup
Coupe de Coeur    Stakkato    Prestige Pilot
Diarado    Contendro I    Grannus
De Niro    Weltmeyer    Hill Hawk xx
Desperados    Lanthan    Salto II
Estobar NRW    Lauries Crusador xx    Davignon I
Floriscount    Lauries Crusador xx    Damenstolz
Quite Rubin    Epsom Gesmeray    Lafitte
Valdez    For Pleasure    Jet Stream xx
Desperados    Ruiz Soler    Pandur
Floriscount    De Niro    Welt Hit II
San Amour I    Fürst Heinrich    Wolkentanz II
San Bernadino    Dauphin    Matrose
Brentano II    Wolkentanz II    Walt Disney I
Desperados    Herzensdieb/T.    Rotspon
Quaid I    Stakkato    Landfriese I
Stolzenberg    Kolibri    Marcello xx
Stolzenberg    Montendro    Lord Liberty
Desperados    Rotspon
Desperados    Rotspon    Lancier
Lord Pezi    Calypso II    Wendelin
Quaid I    Escudo I    Calypso II
Valentino    Granulit    Landadel
Acorado    Stakkato    Fürst Ferdinand
Canstakko    Contendro I    Calypso II
Casino    Lord Z    Zeus
Christ    Don Bosco    Grand Cru
Dancier    Wolkentanz II    Tiroler xx
Dauphin    Weltruhm    Foxhunter
Forsyth    Drosselklang II    Grannus
Fürst Nymphenburg    Londonderry    Karon/T.
Fürst Nymphenburg    Donnerhall    Rubinstein I
Fürst Romancier    Dashing Blade xx    Prince Ippi xx
Lordanos    Acorado    Escudo I
Sandro Hit    Donnerhall    Warkant
Clinton    Acorado    Calypso II
Contendro I    Espri    Lemon xx
Fürst Nymphenburg    Hochadel    Carbid
Lord Pezi    Grandeur    Silvio I
Lordanos    Abke    Glückspilz
Ampere (NLD)    Weltruhm    Latimer/T.
Balou du Rouet    Graf Grannus    Wanderer
Corlensky G    Calido    Wendekreis
Damsey    Worldly    Laptop
Romanov   Dream of Glory    Florestan I
Royal Classic    Wolkenstein II    A Jungle Prince
Sir Donnerhall I    Bonheur    Weltmeyer
Floriscount    Lauries Crusador xx    Eisenherz
Fürstenball    Stedinger    White star
Diamond Hit    Abanos    Bolero
Stanley    Fabriano    Werther
Stolzenberg    Graf Grannus    Graphit
Delamanga    Lancer II    Rembrandt     
De Niro    Fürst Heinrich    Sandro Hit     
Deveraux    Fürst Piccolo    Justinian xx     
Lord Carnaby    Fidertanz    Lancer    II
Lord Loxley    Juventus    Gershwin
Photo © Christina Beuke
Related Links
Rhinelander and Hanoverian Breed Society Join Forces
Fifteen Stallions Approved at 2012 Hanoverian Late Licensing