2013 British Dressage Championships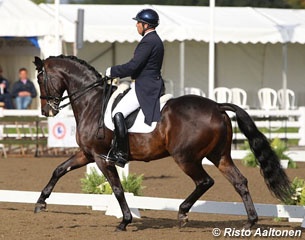 This afternoon, in front of packed grand stands at Stoneleigh, Peter Storr and Fabioso rode a crowd-and-judge-pleasing routine to win a hard-fought Intermediaire I Freestyle at the 2013 British Dressage Championships in Stoneleigh on Saturday 21 September 2013. Carl Hester and Gemma Appleton's Fine Time captured the Grand Prix title. 
Peter and Susan Singer's 11-year-old 'pocket rocket' son of Flammengold qualified in eighth place in yesterday's intermediate I, leaping into pole position this afternoon with their high-class performance to a compilation of tracks by Greek pop star, Yanni.
"To be honest, I was really disappointed with my mark yesterday but equally, Spencer, Michael, Zoe and the like are so good, I wasn't sure they could be beaten but here we are!" said Peter.  "I was really pleased with his pirouettes and there was some lovely trot work today. This will be his last inter test as it's grand prix all the way now. To what extent that is, I'm not sure as I'm nearing my decision to focus on judging internationally which means I can't compete. I'll still do national of course though!  I'm keen to get more judging experience and I've set myself a goal of becoming an O level judge so that's going to need work.  I'm so glad for his owner, Susan, as she didn't have the best morning (her other horse Belmondino went lame in his grand prix test) and she's so supportive so I'm thrilled I could win her a title."
It was, however, the consistency of second-placed Zoe Sleigh and her athletic ride, Fantastic Light, that was rewarded with the title of  Intermediaire I Supreme Champion – the accolade for the highest overall percentage over the two classes. The pair was second to Spencer Wilton and Doogie yesterday, a position they maintained this afternoon with their emotive freestyle.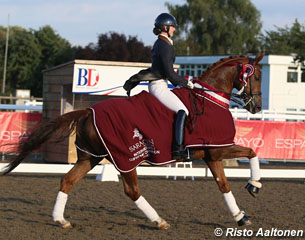 A delighted Zoe said; "He's just a little superstar! I couldn't ask any more of him; to be second in both classes was amazing.  I hadn't really even thought about the supreme title so was surprised when they came to me with a rug!   We've played with his floorplan a bit which has helped but today was the first time I'd ridden it properly!  Abigail Todd did my music – I sent her my floor plan and she did the music to suit him.
"I've had 'Fanta' from a 4 year old, when I was just 15.  I saw him and fell in love at first sight!  We've come up through the grades and it's now onto grand prix.  We'll play it by ear with where and how as there's no rush and he's better lightly competed."
Carl Hester may have a solitary ride at this year's Nationals but he made every inch count with Gemma Appleton's Fine Time in the Grand Prix.  'Bruno' has had to spend much of the season in the limelight of Carl's other rides, Dances with Wolves and Uthopia but today he stepped up to the plate to help his rider to his 64th title at the Nationals and few would bet against his name going on the National Championship trophy for an eighth time, equalling Jennie Loriston-Clarke.
After a typical  exuberant Hester lap of honour which included several rodeo impressions (watch it here), a beaming Carl said; "He's hilarious.  He was hot in there today but his personality has really developed but he's still cool enough to do the job.  His canter is big and he has an over active hind leg; you get this huge surge of power and you think to yourself 'I must not move'!  When we get in full balance, the higher scores will come.  I'm so glad I could bring him here so he has his own chance to shine and many of Gemma's family have come up from Jersey to watch him.  I love riding him!"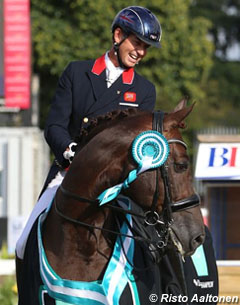 Nikki Crisp and the ever-popular mare Pasoa got the class underway and their score of 70.47% lead for the first half of the competition which concluded with a final Stoneleigh appearance for crowd pleasers Steph Croxford and Mr President.  When she finished, she hopped off, ran her stirrups up and presented him to the crowd who were as emotional as his rider.
Carl and the Florestan I sired stallion entered the arena to much expectation as the crowd always anticipate a great show.  The maestro was on song and gave a great display, clearly demonstrating that the combination are growing in confidence together and a mark of 72.89% was enough to go into pole position.  Next in was Lara Griffith, stable jockey for the Bechtolsheimers, who's taken over the reins on Andretti H to make her grand prix debut this season.  You could count the number of tests at this level they've done one two hands but already they're here and there were no signs of nerves.  She got ever mark possible out of 'Andy' and 70.72% wasn't quite enough to topple Carl but it did give them the runners up spot.  
Ahead of tomorrow's Grand Prix Freestyle, Carl is buoyant; "I'm going to use my music from the 2011 Europeans which I enjoy riding to and it does suit him.  Lara did a great job today – she's already the model of consistency. My job now is to set the standard for these youngsters to come and have a go and beat me!"
Photos © Risto Aaltonen
Text by British Dressage
Related Links
Wilton and Eilberg Take First Titles at the 2013 British Dressage Championships
Scores: 2013 British Dressage Championships