2013 CDI-W Wroclaw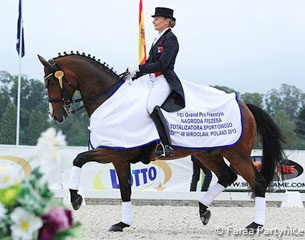 Swiss Grand Prix champion Marcela Krinke-Susmel continued her string of success aboard Irine Meyers' Danish warmblood gelding Molberg (by Michellino). Fresh from winning the national title in Humlikon, Krinke-Susmelj traveled to Poland to claim the first World Cup victory of the season in the 2013-2014 European League World Cup circuit in Wroclaw, Poland, on 13 - 15 September 2013.
After winning in Wroclaw last year, Krinke and Molberg now scored 69.766% in the Grand Prix and 71.900% in the Kur to Music to be victorious. Marcela also won the Grand Prix Special on her second mount, Lazander, with 71.167%. In the Grand Prix German Fabienne Lutkemeier and Qui Vincit Dynamis, who were a late entry as the pair changed their minds from competing in Donaueschingen to Wroclaw, finished second with 69.489% but in the kur to pair had to retire as the chestnut Quattro B x Calypso II offspring spooked too much from the cameras.
Katarzyna Milczarek and her long-time number one horse Ekwador (by Heraldik xx) were third in the Grand Prix, won the title of the 2013 Polish Grand Prix champion after a fourth place in the kur with 71.475%. Spanish Morgan Barbançon Mestre and Heimliche Liebe (by Hohenstein) were seventh in the Grand Prix but moved up to a second place in the Kur with 71.675%. The Spanish Olympian is back in The Netherlands with her horses, as her studies at Eindhoven collage have started again, but she is still training her horses with Andreas Helgstrand via live streaming.
Photos © Katarzyna Broda
Related Links
Scores 2013 CDI-W Wroclaw
Photo Report: Krinke-Susmelj and Milczarek Steal the Show at 2012 CDI-W Wroclaw
FEI Judges and Technical Delegate Seminar at 2011 CDI Wroclaw
Arduous Work Delivered at FEI Technical Delegates' Seminar at 2011 CDI Wroclaw