Dutch Dressage News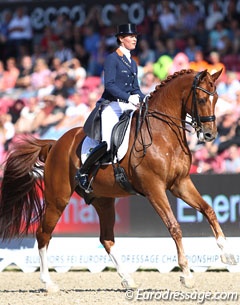 Dutch Adelinde Cornelissen and her top horse Parzival will be competing at the 2013 CDI Vienna, which will be staged on the Viennese town hall square from 19 - 22 September 2013, co-inciding with the Global Champions' Tour leg for show jumpers.
After winning team silver and double individual bronze at the 2013 European Dressage Championships in Herning three weeks ago, it was expected that Cornelissen would give her 16-year old Dutch warmblood gelding (by Jazz x Ulft) a break, as in June the horse suffered from cardiac arrhythmia and was operated on for the condition.
"This is a super nice opportunity to ride Parzival in Austria," Cornelissen told Eurodressage. "It will be super nice for Mr. Jerich."
In 2009 Herbert Jerich, an Austrian transport mogul, came to Adelinde's rescue and offered a four year sponsorship with which Adelinde was able to take over a 50% ownership share from Henk Koers and secure her ride on the horse permanently.
"Usually I don't get this opportunity to compete in Austria because we would already have had a very busy summer, but this year that wasn't the case," Cornelissen explained.
The Olympic individual silver medalist of 2012 disclosed to Eurodressage that she will not be focusing on riding the 2013-2014 World Cup circuit show.
"I don't have concrete plans yet concerning competitions but indeed I'm not focusing on the World Cup Final," she stated. "Especially because it's quite late in the season and then the preparations for Normandy won't be optimal."
Photo © Astrid Appels
Related Links
Austrian Herbert Jerich Secures Parzival for Adelinde Cornelissen
Parzival Fit for Herning
Parzival Not to Compete at 2013 Dutch Dressage Championships
Adelinde Cornelissen's Parzival Diagnosed with Arrhythmia