2013 Swiss Dressage Championships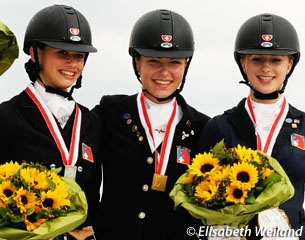 Pony rider Anastasia Huet, junior rider Naomi Winnewisser, young rider Estelle Wettstein and Grand Prix rider Marcela Krinke-Susmelj became the grand champions in their divisions at the 2013 Swiss Dressage Championships held in Humlikon, Switzerland, on 29 August - 1 September 2013. All are routine riders on the Swiss team and hope to represent Switzerland successfully around the world throughout the years to come.
With triple wins in the pony championship, Anastasia Huet and her pony mare Equestricons Day of Diva (by Don't Worry x Capri Moon) scored a 70.769% in the team test, a 70.976% in the individual and a tidy 75.600% in the kur to finish with an overall total of 217.345 points ahead of Junior Champion, Naomi Winnewisser, on 212.502.
"The Swiss Championships were amazing and I was thrilled to be able to win the three tests," said 16 year-old Anastasia. "Diva and I both adore riding our Mary Poppins Kür, so it was great to be rewarded a high percentage and a gold medal."
A golden week for the golden girl, Anastasia says that being able to step up on the podium was particularly incredible. ''The last centre line of our kur was also very emotional, as we knew it was our last test but I just feel I was so lucky to be able to participate. I owe every moment to the amazing team that surrounds me, without them I wouldn't have been able to do anything."
A student at and International school in Geneva, Anastasia has two more years of study left until she will pass her IB (International Baccalaureate). "For the moment I have had good grades and I have enjoyed school," she stated.
Described as a "surreal" pony Equestricons Day of Diva is always positive and willing and every day is an absolute privilege to ride her. "I am so lucky to have had the opportunity to spend two seasons riding such a fabulous pony. Diva is adorable in the stable and so cuddly and if she could talk she would say, "cuddle me and I'll cuddle back!"," said the rider.
Part of the Swiss Pony Dressage team for the last four years, Anastasia has participated in three European Championships and is sad to say this will be her last season in the pony sport. "After competing with Diva in two European Championships, the main challenge leading up to any championships or competitions was keeping my pony happy and motivated with the work and willing to deliver the best in every session. I strongly believe that a horse will only produce it's best if it feels comfortable and loved. A horse, in my opinion, must be given the opportunity to gallop freely in a field and go out on hacks, no matter what level it is competing at."
Trained by Marie-Valentine Gygax in Prangins, Geneva, Anastasia couldn't ask for a better coach, or a more dedicated one. "We have an amazing relationship and we have such a good time training," she said.
With no set plans for 2014, Anastasia is looking for a horse to hopefully take her through juniors and Young Riders. "As I will be passing the IB, I won't have as much time for riding as I have had in the past. I will have to try and juggle riding with school. My ultimate goal is to stay in the equine industry and hopefully continue dressage at a high level. For the moment I have had extreme luck and support from my parents, I only hope to have the opportunity to ride horses with same quality as the ponies I have had the privilege to ride."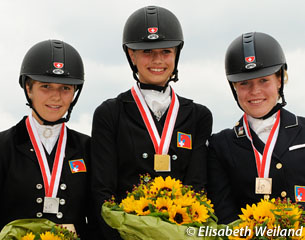 After a silver performance in the Pony division, Naomi Winnewisser rose to claim the Junior Gold with the 8 year-old Hanoverian gelding Furst Rousseau (by Rousseau x Weltmeyer), with whom she made her debut competition with just one week prior to the Swiss Champs!
"The highlight of my year has been this Junior title win alongside my 11th place in the Kur at the European Championships with my pony Diamant," Naomi told Eurodressage.
Only 14 years old Naomi is still very young but is already making the transitions to horses, as she is rather tall for her age. "The horse I competed at the Swiss Champs belongs to and has been trained by Tiggy Lenherr of Lenherr Sportpferde who allowed me the ride on him at the Championships as my own horse was injured," she said. "I rode just one competition with him a week before and we won there, so we took the risk and rode the Swiss Champs!"
A very well organised competition with a super atmosphere, the Nationals were very close to where Naomi lives, which made it even more special as friends and family could come to watch. "My biggest challenge during this competition was riding a horse that I didn't know all that well."
Trained by the owner of Furst Rousseau, Tiggy Lenherr in Pfyn, Naomi felt that after entering in such a big competition, she got to know Furst pretty well in such a short time. "If Fürst Rousseau could talk he would tell me not to worry, he knows what he is doing!"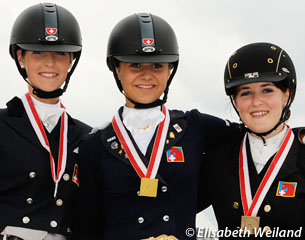 After a 31st place in the Junior section at the 2013 European Junior Riders Championships, Estelle Wettstein rose to the Young Rider class because her junior horse Romocantin was unable to compete. Where a door closes a windor opens and Estelle took out the Swiss Young Rider title on her second horse, the 8-year old Oldenburg gelding Friedrich der Grosse.
"Friedrich just started with S-level this year and so we entered the Swiss Young Rider Championship thinking that we just wanted to give it a try," says Estelle. "I train with my parents in Zurich, so it was not a long trip, only 30 minutes, and one that was definitely worth it."
Claiming all three test victories, Estelle finished on an overall total of 214.054 points well ahead of her closest competitor Andrina Suter on 198.100. "Friedrich was just great and even with some little mistakes, we earned over 70% every day. Plus, we finished with a total that was 15% more than the silver rider," said the rider proudly.
A great experience for the combined jumping and dressage rider, Estelle hopes to train Friedrich Der Grosse up to the Under 25's and Grand Prix and continue with her jumping and dressage at a high level.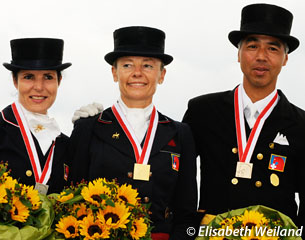 Seasoned Grand Prix rider Marcela Krinke Susmelk and Irine Meyers' Danish warmblood Molberg took both the Grand Prix and Grand Prix kur tests with 72.468% and 76.800% winning the Swiss Grand Prix Championship with 149.268 points, ahead of Elisabeth Eversfield Koch and Rokoko N on 145.833.
"I was very happy with my results, and Molberg showed two super rounds,'' said the 47 year-old Marcela. "The highlight was the power and steadiness of my horse and after performing one of his best tests ever in Herning, I feel he is getting better with every ride."
Molberg" is a 12 year-old Danish warmblood by Michellino x Rambo and Marcela feels that his pedigree is a mirror of his personality. "He is afraid of many things, is very powerful and keeps going forward all the time," she said.
If 'Molle' could talk he would say, "I love to compete and you have a goal and if you do a good job, you will feel just super on board me," said Marcela.
Competing at Grand Prix for over 10 years, Krinke-Susmelj feels this is thanks to the support of her super sponsor, Irene Meyer, and her very talented horses! "I hope to continue to train with Ton de Ridder in (Aachen), whom I've been with for over 2 years. He is super. As for the future, I will aim for the WEG in Normandy, the World Cup Finals in Lyon and work to keep my horses healthy and happy and enjoying dressage," she concluded.
Text by Sarah Warne for Eurodressage
Photos © Elisabeth Weiland
Related Links
Scores: 2013 Swiss Dressage Championships
Wettstein, Lehmann, Krinke-Susmelj Win 2012 Swiss Dressage Championships
Surprise, Surprise: Markus Graf is the 2011 Swiss Dressage Champion
Corinth Did It Again at the 2010 Swiss Dressage Championships
Veronika Marthaler, 2007 Swiss Dressage Champion
Widmer, Reutimann and Wettstein, 2006 Swiss Dressage Championships