2013 Dutch Outdoor Pony Championships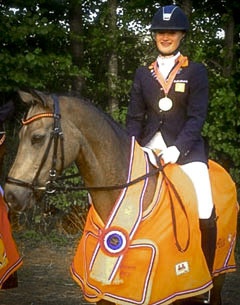 Lisanne Zoutendijk and Champ of Class topped off an already amazing 2013 show season with the 2013 Dutch Outdoor Pony Champion's national title. The pair won the Dutch Pony Championships in Ermelo, The Netherlands, on 31 August 2013 after earning team silver and individual silver and bronze at the 2013 European Pony Championships in Italy in July.
At the 2013 Dutch Pony Championships the qualified riders had to perform two tests. The twelve highest scoring pairs in round one were eligible to compete in the second round in the afternoon which determined the final ranking.
Zoutendijk and Champ of Class (by Champion de Luxe) won the morning round with 72.18% well ahead of second placed Guusje van Heeswijk on Klavertje Character (69.32) and then dominated the finals with a big score of 76.42% to win gold.
"This is totally great that it worked out," said a beaming 15-year old Zoutendijk. "Champ always does his best. Especially the canter and the simple changes worked well today. I have been following lessons that focus on test riding with Coby van Baalen and Jeroen Okkema also helps me out. Because of my age I still have one year to go in ponies."
The silver medal went to last year's winners Febe van Zwambagt on the bay German bred pony Dr. Watson (by Don't Worry). She won the first round with 74.79% but finished second in the finals with 74.39%.
Kaylee Gouda and her bay Dutch bred German Riding pony Don Camillo du Bois (by Dornick B) posted a finals' score of 71.99 to get bronze, their first big medal at FEI pony level.
Results - 2013 Dutch Outdoor Pony Championships - Ermelo
Final Round
1. Lisanne Zoutendijk - Champ of Class - 76.42
2. Febe van Zwambagt - Dr. Watson - 74.39
3. Kaylee Gouda - Don Camillo du Bois - 71.99
4. Joelle Peters - Haasendonck's Suktan - 70.65
5. Guusje van Heeswijk - Klavertje Character  69.98
6. Celine Jeurissen - Donnertraum - 68.50
7. Zoe Schipper - Dolce Vita - 68.41
8. Mercedes Verwey - Brouwershaven Nairobi - 67.07
9. Eveline Bos - Liberty - 66.63
10. Paulette Kral - Orchid's Borneo II - 65.98
11. Esmee Donkers - Boticelli - 65.16
Romée van Paasen - Keulse Hoeve's Zico - DNS
Related Links
Van Zwambagt and Dr. Watson Win 2012 Dutch Outdoor Pony Championships
Sanne Vos and Champ of Class Win 2011 Dutch Pony Championships
Te Riele Concludes Pony Career with 2010 Dutch Pony Champion's Title
Antoinette Te Riele, 2009 Dutch Outdoor Pony Champion
Te Riele and Danny Boy B Win 2008 Dutch Outdoor Pony Championships
Angela Krooswijk, 2007 Dutch Pony Champion
Michelle van Lanen, 2006 Dutch Pony Champion