2013 U.S. Developing Dressage Horse Championships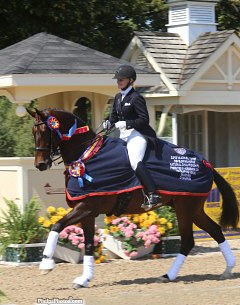 Laura Wharton-Mero and her Dutch warmblood Zandor became the winners of the 2013 U.S. Developing Grand Prix Horse National Championship held at the Lamplight Equestrian Center in Wayne, ILL on 23 - 25 August 2013.
The field of six Developing Grand Prix horses returned to Lamplight's Championship Arena to earn the remaining 60% of their championship score by performing USEF Developing Horse Grand Prix Test. They carried forward the score from Thursday's FEI Intermediaire II Test which composed the first 40% of their score.
Laura Wharton-Mero (Woodstock, GA) and her own Zandor (Florencio x Nancy BS/Amulet) were the winners of Thursday's Qualifying Class and returned the Championship Arena looking to earn the National Championship. The nine-year-old KWPN gelding once again demonstrated his aptitude for the Grand Prix movements to finish third in the Championship Class on a score of 66.542% to finish on an overall total of 66.715%.
"Zandor had a nice ride Thursday, he was a little tight at the beginning but got better," said Wharton-Mero of the expressive gelding. "Today he stayed very consistent, there were a couple bobbles but he stayed consistent."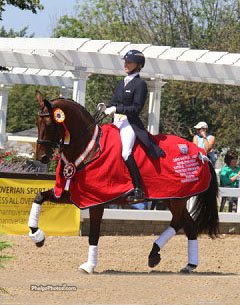 Zandor has been a part of the U.S. Young Horse Dressage Program since he was a four-year-old and competed in last year's Developing Horse Prix St. Georges Championship. His win this weekend is not only a testament to the program but also the Wharton-Mero's training.
"I've come through this program, this horse has been doing this since his four-year-old year," said Wharton-Mero. "It's a wonderful feeling to win."
Reserve Champion honors went to Kathy Priest (Versailles, KY) and her own 10-year-old Dutch warmblood  Wild Dancer (Florett As x Reality B). The impressive mare improved upon her performance on Thursday to best the field in the Championship Class with a score of 66.708%. They finished on a championship score of 66.253%.
"I'm happy with my girl she stayed pretty consistent," said Priest. "I'm happy she hit her one-tempis and the passage piaffe tour is improving. I'm thrilled."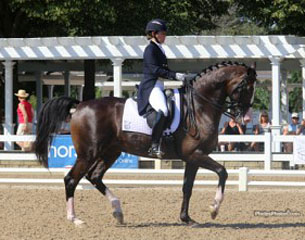 Katie Riley (White House Station, NJ) and her own nine-year-old KWPN stallion Zanzibar (Consul x Juventafee/Farmer) secured third place honors with a championship total of 66.090%. On Saturday they cruised to 66.583% to earn second place in the Championship Class as well as the Highest Place U.S. Bred award.
Photos © Mary Phelps - More Coverage of the U.S Developing Horse Championships on Dressagedaily.com
Related Links
Wakeup and Zandor in Front at the 2013 U.S Developing Dressage Horse Championships
Wilcox and Pikko del Cerro Win 2012 U.S. Developing Grand Prix Horse Championship