FEI Dressage News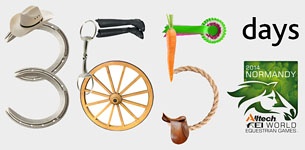 Today (23 August 2013) marks the one-year countdown to the 2014 World Equestrian Games in Normandy. In just 12 months, some 900 riders, drivers and vaulters and their horses from over 60 countries, 500,000 visitors, at least 1,500 media representatives
, and thousands of volunteers will gather in Normandy for the world's greatest equestrian event and the largest sporting event in France in 2014.
World championships in Jumping, Dressage and Para-Dressage, Eventing, Driving, Vaulting, Endurance and Reining will be held from 23 August to 7 September 2014 at venues in Caen, the prefecture of the Calvados department in north-western France, the country's oldest national stud farm at Haras du Pin, and the UNESCO World Heritage Site of Mont Saint-Michel.
To celebrate the one-year countdown, the FEI has today launched an online history hub dedicated to the World Equestrian Games which contains detailed information about each of the previous Games, starting with the inaugural edition in Stockholm in 1990, through to Kentucky 2010 and looking forward to 2014. Along with a summary of the Games' most memorable moments, the website features key facts and figures, complete results, and extensive photo galleries.
"The FEI is working very closely with the Organising Committee of the World Equestrian Games 2014 in Normandy to ensure the best possible conditions for the athletes - both human and equine - the officials, numerous spectators, volunteers, and the media," FEI Secretary General Ingmar De Vos said.
"Two successful test events in Endurance and Eventing were organised just last week, and there is another one in Driving currently being held, followed by a chef de mission meeting next week. Preparations are on track as we enter the last organisational phase. We are confident that France, one of the world's leading equestrian nations, will stage truly memorable World Equestrian Games 2014 in Normandy."
Related Links
2014 World Equestrian Games Seeking Volunteers
Tim Hadaway Joins FEI as Director Games and Championships Department
Vet Services Manager Appointed for 2014 World Equestrian Games