2013 European Dressage Championships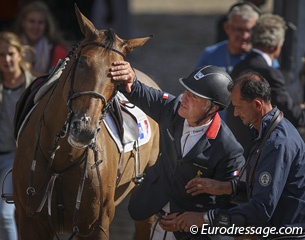 A big championship competition can be compared with a roller coaster ride.. First you slowly climb to the top, you have plenty of time to look around and ease into the situation while anticipation builds in your stomach, and then it starts and it goes incredibly fast and you are taken by the moment, unable to do anything but just enjoy the ride.
The dressage competition started on Wednesday and all of a sudden the show went at full speed, long work hours, a lot of writing articles, downloading, selection, preparing and uploading photos, late nights, hardly any sleep, early mornings. The Grand Prix special wrapped up on Friday afternoon and in the evening I finally I had time to breathe again and unwind for a second.
Jan Tönjes (editor in chief of St. Georg) decided to go for a drink near the warm up and met with Jens and Susanne Meyer, Steffen Frahm, Johannes and Ines Westendarp, and the PSI crew including Ulf Möller and François Kasselmann. The warm up area was still a busy hub as a CDI 3* was going on in the stadium until very late in the evening and riders, trainers, grooms were coming and going. Each night a local club organizes a big party in the tent between the warm up rings and the music was like the sound of sirens, alluring us to take a peak in the tent.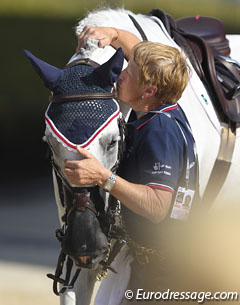 Round mid night we all went in (minus Tönjes). I was surprized to see the tent was half empty and the average there must have been round 25. In the VIP section in the tent a big table was reserved for Team Helgstrand and on the dance floor is saw an amazing Fred & Ginger couple swinging away, Andreas with his wife Marianne. I didn't know that besides his boots, Andreas also had amazing dancing shoes. More dressage faces trickled into the tent, such as the German De Niro ladies popped by (Fabienne Lutkemeier, Kristina Sprehe and friend Victoria Michalke).
By 2.30h I had seen enough of the partylife in Herning and dreaded the 30 minute and 43 km drive back to the hotel. I got there at 3 AM totally knackered from the long day and was happy to sleep late until 9.
Fortunately Saturday is a chill day for dressage riders as the jumping competition came to a close with a thrilling finals won supremely by Roger Yves Bost, nicknamed Bosty. He beat two strong Brits, Ben Maher and Scott Brash, and also outclassed Olympic champion Steve Guerdat whose amazingly jumping Nino des Buissonnets refused on the second jump in a very difficult triple.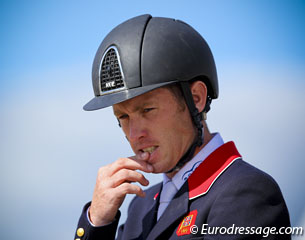 I decided to defect and convert to "show jumpingism" for a day, taking photos of the warm up. As I wasn't focusing on the actual competition I was able to stand into the best spot for the emotion shots are the riders came out of the ring. I was able to take what I think is an amazing photo of Roger Yves Bost patting his winning horse Myrtille Paulois as well as the rider kissing his wife.  I also have a shot of bronze medallist Scott Brash nail biting as he sees his rivals compete on the jumbotron. You can see them in the gallery below.
Text and Photos © Astrid Appels - No Reproduction Allowed
Related Link
Eurodressage Coverage of the 2013 European Dressage Championships