2013 European Dressage Championships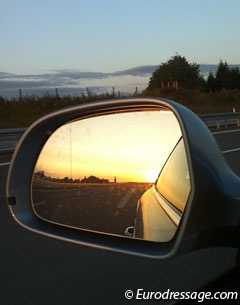 The early bird catches the worm, so it was a bright and early start for me today. The vet check for the dressage horses at the 2013 European Championships in Herning was scheduled to start at 9.30 in the morning. This means that most riders put in a training session before that time to get their horses loose and relaxed for the trot up. I decided to get up at 5.45h to be at the show at 6.00.
Of course I only ended up in bed at 1.00 AM working late, taking a showed, skyping and just doing my last minute checks on the iPad. Isn't it crazy that you work on the computer the entire evening and as soon as you close the laptop, you grab an iPad and start all over again. I thought I would be the first member of the press waking up in the morning to go to the show, but clearly I was wrong. At 5.00h I awoke because I heard footsteps in the corridor, twice. Then at 5.15h an eager beaver truck delivery arrived at the doorstep and loadly unloaded its cargo. I was wide awake by 5.45h and felt like a train wreck from the lack of sleep.
As breakfast I just ate an apple in the car and was reminded again how untasteful fruit is when you eat is right after you brushed your teeth. I arrived at the show grounds at 6.30h and the Austrian team was already in the main arena practising. The entire morning I actually browsed from one warm up ring to the other photographing the riders. It's quite a challenge to shoot the horses in the soccer stadium as the big grand stand is covered and actually casts much shadow on the footing. So at times the arena is half sun-lit and half in shadow. Boy that will be a task tomorrow.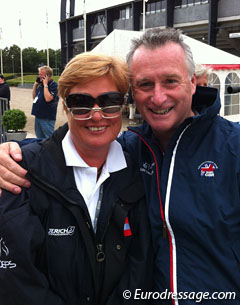 The vet inspection behind the main stadium was a very relaxed affair with quite a few spectators and a lot of photographers taking pictures. I had lunch after the last training session. Nice sandwiches were served in the press centre and I grabbed a bite while working on stories the entire afternoon. The cleaning staff is obviously not used to handling sand footing, because the entire press centre - ground level and first floor - is covered with a layer of sand which they can't get removed with their tiny vacuum cleaners (instead of taking a broom, go figure?!). The press centre in Herning is like a bee hive, with lots of journalists coming and going, checking out each other's equipment and photos. The centre also has a lot of "passers-by" (read: riders, trainers, chef d'equipes) who are too stingy to pay for their coffee and just enter the centre for free drinks and cake.
I took me until 18h to finish my work and then I decided to have a look at the show jumping, which didn't really intrigue me at all, though I was very impressed by the potential of Ben Maher's Cella. I quickly changed my mind and started to look for dressage riders I could chat a bit with, but it seemed like an exodus had taken place on the show grounds: jumpers everywhere and hardly any dressage riders were left in the evening. So my mind turned to food as part of my press-survival-instinct. I had seen a German journalist carry take away sushi and ventured to the trade fair to find the toko. When I got there, they were sold out, so I ended up drinking a cup of miso soup and eating some edamame, which was so salty my tongue stung from it.
I felt unsatisfied and searched for a sushi place in Silkeborg on my way back to the hotel. The GPS took me to the town centre and I passed the most incredible lake with gorgeous houses set on the banks. It was absolutely beautiful. I got a nice dish of take away sushi at Koma, which I ate in my room, while watching Star Wars The Phantom Menace on television.
Tomorrow it's a late start for the dressage aficionados so I'm going to cherish that moment and catch up on some sleep.
Text and photos © Astrid Appels
Related Link
Eurodressage Coverage of the 2013 European Dressage Championships