KWPN Breeding News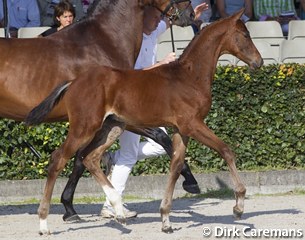 Islero was named winner of the 2013 KWPN Foal Championship for dressage bred foals at the 2013 KWPN Horse Days in Eremelo, The Netherlands, on Friday 16 August 2013.
Apache offspring dominated the 2013 KWPN Foal Championship for dressage foals with the top three all being his descendents. It was also remarkable that none of the foals had Jazz as sire nor grand sire, whereas the 3-year old Mare Championship was still dominated by Holland's most successful dressage sire ever, Jazz. 
The champion colt is bred by S. Snijders, owned by Snijders and H. Westervelt, and is by Apache x Sandreo. Judge Toine Hoefs commented that "Islero stood out with his good walk and elasticity. He's an incredibly charming foal."
The reserve champion was filly Iris S (by Apache x Furst Heinrich), bred and owned by F. van Santvoort. The third place went to colt Il Divo (by Apache x Uphill), bred by M. Galema and owned by M. Galema and J. Voorend.
Results - 2013 KWPN Foal Championship
1. Islero (by Apache x Sandreo) - Breeder: S. Snijders - Owner: S. Snijders & H. Westervelt
2. Iris S (by Apache x Furst Heinrich) - Breeder & Owner: F. van Santvoort
3. Il Divo (by Apache x Uphill) - Breeder: M. Galema - Owner M. Galema & J. Voorend
4. Ilana (by Cupido x Houston) - Breeder & Owner: A. Dijkstra
5. Ivana (by Apache x Undigo) - Breeder & Owner: T. Hassink
6. I'm Special (by Charmeur x Negro)) - Breeder & Owner: M. Wijlaars
7. Itrichta van de Westen (by Apache x Rousseau) - Breeder & Owner:C. Kikkert
8. Issey (by Bordeaux x Jazz) - Breeder & Owner: J. van Deurzen
9. Ishemdit (by Desperado x Goodtimes) - Breeder & Owner:S. Bloem
10. Ivar (by Cupido x Special D) - Breeder & Owner:H. Cazemier
11. I am Special (by Charmeur x Ferro) - Breeder: J. Jansen Joppe - Owner: K. Gerrits
Photo © Dirk Caremans
Related Links
Hero-K Proclaimed 2012 KWPN Foal Champion
Gregwaard Proclaimed 2011 KWPN Foal Champion
Ferrari Proclaimed 2010 KWPN Foal of the Year