2013 European Dressage Championships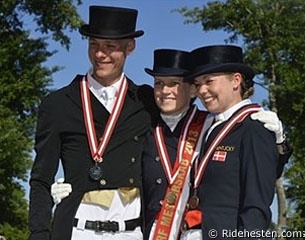 A field of 13 combinations has been lined up to compete in the Under 25 classes during the 2013 European Dressage Championships in Herning, Denmark, which are set to start on 20 August 2013 and which will run through Sunday 25 August 2013. Especially home country Denmark is represented by a large group of riders in this division.
Denmark will be featuring Under 25 champion Nanna Skodborg Merrald on her own Millibar (by Milan), as well as by Danish U25 silver medalist Daniel Bachmann Andersen on Silvia Rizzo's Donna Silver (by Don Schufro) and bronze medalist Sofie Jeppesen on her own Hedebo's First As (by First Flair). Carina Nevermann Torup (Blue Boy) and Anna Zibrandtsen (Domello) join the club.
The Netherlands has been allowed to enter three riders for the U25 classes in Herning: Danielle van Mierlo, Diederik van Silfhout and Mara de Vries, Germany can send two: Nadine Husenbeth and Lisa Maria Klossinger.
Three countries will have just one rider representing their country in Herning: Spain has Alexandra Barbancon Mestre (Don Lorean), Great Britain is sending Emily Cousins (Solo Bachelorette) and Sweden has sent Marina Mattsson (Mainau) for the battle.
Photo © Ridehesten.com
Related Link
Eurodressage Coverage of the 2013 European Dressage Championships