2013 World Championships for Young Dressage Horses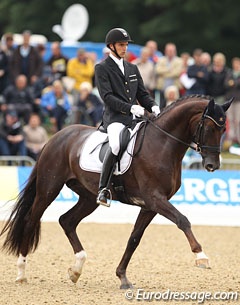 Andreas Helgstrand and the Oldenburg branded Floricello became the strong winners of the 5-year old consolation finals at the 2013 World Young Horse Championships in Verden, Germany, on Friday afternoon 9 August 2013. The Danish rider, who obtained a wild card to compete Floricello for Germany, scored 8.80 for the victory.
The top three ranked combinations of the consolation finals are allowed to compete on the Finals on Saturday, so much was at stake for the riders to do their best with this second chance.
Helgstrand and the Swedish owned Floricello (by Florencio x Dormello) struggled in the preliminary test with a very distracted and tense horse and the Danish Olympian still had his hands full with Mrs Hemmingsen's Oldenburg reserve licensing champion in the warm up, but in the test the rider was able to have the horse focused and quite relaxed. The gorgeous stallion scored 9.7 for trot, 7.8 for walk, 8.8 for canter and submission and 8.9 for general impression to average 8.80.
Blue Hors stud assistent trainer Allan Gron presented the liver chestnut Zick Flower (by Zack x Romanov) very consistently. The Danish warmblood gelding is a very clear FEI level international calibre prospect with amazing talent for the most difficult movements. In the consolation finals this innate talent shone through much better, even though the walk was still an issue. The horse got 9.0 for trot, 6.2 for walk, 8.9 for canter, 8.5 for submission and general impression and 8.22 overall.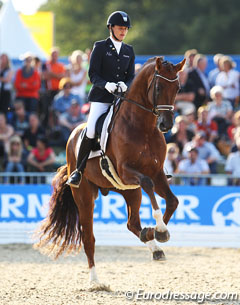 French Jessica Michel made the best of this second opportunity and present her much talked about Don Juan de Hus, a Dutch bred and Westfalian licensed stallion by Jazz x Krack C, in a more closed frame. The huge liver chestnut has unlimited movement potential. His trot is gigantic, his canter stellar and his walk is more than decent. While in the preliminary test the horse was quite open and free in the contact, Michel closed him more now and collected the canter a bit extra, which improved the silhouette but also led to a bit of tension in one corner, where he changed behind. Don Juan does struggle with the rein back as the stallion always halts with his hind legs wide and taking the reserve steps is difficilt for him as he widens his legs even more.  The pair received the well earned scores of 9.4 for trot, 7.5 for walk, 8.0 for canter, 7.8 for submission and 8.3 for general impression to finish third on 8.20.
Text and photos by Astrid Appels - No Reproduction Allowed
Eurodressage photographer Astrid Appels took photos of all combinations competing at the 2013 World Young Horse Championships. Contact us if you are interested in prints of your photos!
Related Links
Scores 2013 World Championships for Young Dressage Horses
Eurodressage Coverage of the 2013 World Young Horse Championships