British Warmblood Breeding News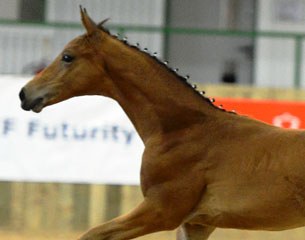 Dressage breeders had a very successful time at the Hartpury, Baileys Horse Feeds/ British Breeding/British Equestrian Federation (BEF) Futurity held on the 23rd and 24th July at Hartpury College.
The BEF Futurity Evaluation series aims to identify British bred young potential sport horses and ponies destined for careers in dressage, eventing, show-jumping or endurance, and may even find the Olympic Champions of the future.
A total of six Elite premiums (score of over 9.00 out of 10) were awarded at Hartpury to potential dressage horses. An elite premium indicates that the horse has the potential and outlook to perform at international level.
The Woodlander stud came home with three elite scoring foals. All three are by Alison Walton and Lynne Crowden's young stallion, Supertramp. Lynne said, "It is a fantastic result for Supertramp's first crop of foals. As a stallion owner, the Futurity is increasingly becoming important to us because of the stallion rankings".
Colt foal, Simbambili, bred by Alison Walton scored the highest elite premium so far of the 2013 Futurity (9.43). He is by Supertramp, out of a Florencio mare, Cayenne D. The evaluators commented on the correctness of his trot for dressage. They went on to say he has, "Very good suspension and balance with good natural carriage and a big stride. He creates a harmonious picture. Simbambili has now been sold to a competition home.
Woodlander Sharona, a filly foal, gained an elite premium of 9.08. She is owned and was bred by Lynne. She is by Supertramp, out of a Weltregrent mare, Weltregentin. Lynne said, "Sharona will stay with us, I bought her dam in 1999 and she has already produced some very good foals for us".
Also attaining an elite premium at Hartpury was Woodlander Sugar Pie, a filly foal bred by Lynne and now owned by Debbie Green. She attained a premium of 9.05, she is by Supertramp, out of a Florencio mare, Elite Foxy Lady. Lynne said, "Debbie fell in love with her when she saw her. It is great that Debbie's first foal has gained an elite premium".
The Woodlander Stud intend to take more of their foals to the Futurities at the College, Keysoe and Solihull. They will then take their 2 and 3 year old horses to the Futurities at Catherston Stud and Arena UK with a view to the Equine Bridge.
Sandy Senior of the Glossoms Farm Stud in Melton Mowbray attained an elite premium with, GF Dusautoir. (9.23) GF Dusautoir is by Dimaggio and out of a mare, Byzantia who is by Biotop. This is the second time GF Dusautoir (Dusky) has attended the Futurity and the second time he has received an elite premium. Sandy said, "I am thrilled with Dusky, I bought his dam to breed from and so far we have some lovely young horses. She has this year had a colt foal by Uthopia who I also plan to take to the Futurity. Dusky is also the full brother of former National elementary champion and licensed stallion, GF Deville".
Dusky has been at Darren Mattia's, Court Farm Stud in Herefordshire for most of this year, Darren who exhibited Dusky at Hartpury will soon start breaking him in. Sandie went on to say, "Darren has done a fantastic job with him. All going well, Dusky will go for his stallion license in September. I brought him back to the Futurity to ensure he is eligible for the equine bridge".
The Futurity Equine Bridge is a new initiative for 2013 and will run as an extension of the Futurity evaluations. The Futurity Equine Bridge seeks to provide top Futurity graduates with the direction and support they will need as 4 and 5 year olds so that they begin their early years under saddle in a way that allows for sustained physical and mental development. In order to be eligible for the Futurity Equine Bridge all horses must obtain two scores of 8.5 or above, one of which must have been obtained in their three year old year.
Also exhibited at Hartpury by Darren Mattia was elite scoring colt foal, Frank Sinatra, for owner and breeder Lindsey Roberts (9.23). Frank was born at Darren Mattia's, Court Farm Stud in Herefordshire. Lindsey said, "Darren rang me and said to get over quickly, so I jumped in the car and drove the 2 hours from Buckinghamshire to Hereford and saw him born. He was huge! I am thrilled with Frank, he is the first one I have properly bred myself. It is incredibly exciting to have such a wonderful foal. He may be stallion material in time and we will keep him and he will hopefully go out to compete when he is old enough". Frank is by Foundation and out of a mare called Bella Vanuta who Lindsey bough to breed from. Lindsey went on to say, "Darren is fantastic with the foal, he is so experienced and really knows what he's doing".
Judith Davis of the Hawtins Stud bred and owns three year old Hawtins Sandori, who received an elite premium of 9.01 at Hartpury. Judith said, "We are really pleased with Sandori, he is currently being broken in and he will start competing next year and then he will be for sale". The Futurity evaluators said, "Hawtins Sandori showed cadence in his trot and good articulation of the joints". Sandori is by Sarkozy and out of a Brentano State Premium mare.
With entries limited to 60 at each evaluation venue, places are keenly sought after. Entries are categorised by discipline with age groups for foals, yearlings, two and three year olds and each horse is evaluated in hand and loose in a safe indoor environment as well as undergoing a vet's assessment.
The BEF's Head of Equine Development, Jan Rogers, said: "The Futurity continues to go from strength to strength. The results at Hartpury College were very encouraging and we are finding that the horses our breeders are producing have the range of talents that are likely to be needed by the growing base of riders who wish to participate in horse sports".
The BEF Futurity Evaluations are held at 16 venues throughout the UK and young horses go home with a BEF Premium (grade), a stylish rosette and a detailed, informative score sheet. An attractive certificate to keep and frame follows on after the event. All results are published on the fully searchable British Breeding website. www.britishbreeding.org.
Photo © Kevin Sparrow
Related Links
BEF Futurity Evaluations Announced for 2013
2013 BEF Futurity Dates and Venues Announced