2013 Bundeschampionate Qualifier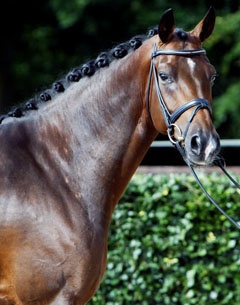 The 5-year old Labelle and the 6-year old Schmuckstuck were the winners of the Bundeschampionate qualification classes for 5 and 6-year olds at the regional show in Burgstädt on 4 - 7 July 2013. Twenty-four horses in total rallyed in Burgstädt to contest the L- and M-level dressage horse tests.
Austrian Kerstin Kronaus and the German Sport Horse registered Laballe (by Stallone Quainton) led the ranking in the 5-year old division with a 7.6 score, which didn't suffice to qualify for Warendorf. Alexandra Giebel and the Hanoverian branded Cookie Boy Romancier (by Concetto) were second with 7.5. They tied with Manuela Schmitt on Quenzel (by Quaterback).
Nadine Plaster and the 6-year old Hanoverian Schmuckstuck (by St. Moritz x Bonheur x Weltmeyer) topped the leader board in the M-level test with 7.7. Kerstin Kronaus and her Hanoverian Sir Stanislaus (by Sandro Hit) were the runners with 7.3 but they tied with Enrico Schöbel on the Hanoverian Don Lanero (by Don Crusador).
Results - 2013 Bundeschampionate Qualifier - Burgstädt
5-year olds
1. Labelle (by Stallone Quainton) - Kronaus, Kerstin - 7.60
2. Cookie Boy Romancier  (by Concetto) - Giebel, Alexandra  - 7.50
2. Quenzel  (by Quaterback) - Schmitt, Manuela - 7.50
4. Curanus  (by Contract) - Plaster, Nadine  -  7.40
4. Aristos (by Amantus) - Stechele, Martin  - 7.40
6. Chicago (by Ciacomini) - Horler, Sebastian  -   7.30
6. Davy Jones (by Don Romantic ) - Schmitt, Manuela  - 7.30
6. Sir Rubiloh (by Sir Donnerhall I) - Stechele, Martin -  7.30
9. Der Romantiker   (by Don Romantic) - Kronaus, Kerstin -  7.20
10. Semino (by Simonetti) - Brauckmann, Anne -  6.50
10. Silverbell  (by Silvermoon) - Vite, Dominique  - 6.50
12. Cinderella (by Claudio's Son) - Beinlich, Nicole  -  6.40
12. Stern von Afrika (by San Amour) - Großmann, Anne-Marie - 6.40
14. Scido  (by Stallone Quainton) - Barth, Lis-Carolyn - 6.20
Dr. Q   (by Dr.Jackson D) - Puschmann, Stefan  - RET/DNS
San Fabia   (by San Amour) - Weber, Maja - DNS
6-year olds
1. Schmuckstück (by St. Moritz) - Plaster, Nadine  - 7.70
2. Sir Stanislaus (by Sandro Hit) - Kronaus, Kerstin  -  7.30
2. Don Lanero (by Don Crusador) - Schöbel, Enrico  -  7.30
4. Honneur (by Hotline) - Tempel, Reinmar - 7.20
5. Goldstaub  (by   Goethe) - Hilbrig, Aline   -  6.90
6. Douceur  (by Dr.Jackson D) - Miethe, Angelika  -  6.80
7. Swarovsky  (by Santino) - Scholich, Stefan  - 6.30
8. Sir Little (by Summer Hit) - Nitschke, Nadine - 6.00
Related Link
Eurodressage Coverage of the 2013 Bundeschampionate