2013 European Dressage Championships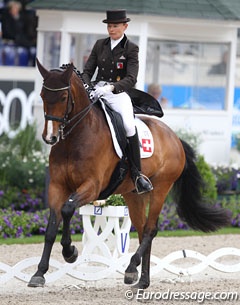 The complete list with definite entries for the 2013 European Dressage Championships in Herning, Denmark, on 20 - 25 August 2013 is known. Last teams to be announced are the French, Swiss and Luxembourg teams as well as several individual riders.
The dressage start list will have a total of 69 riders, with 15 national nederations entering full teams. The countries bidding for team medals are: Austria, Belgium, Denmark, Finland, France, Germany, Great Britain, Italy, Luxembourg, Netherlands, Norway, Portugal, Spain, Sweden and Switzerland. Five nations will be represented by individuals: Armenia, Ireland, Poland, Russia and Ukraine.
The French team is constituted by:
Marc Boblet - Noble Dream
Claire Gosselin - Karamel de Lauture
Jessica Michel - Riwera de Hus
Karen Tebar - Florentino
The Luxembourg team includes
Gastion Chelius - Flamenco R
Isabelle Costantini - Rimbeau
Diane Erpelding - Woltair
Veronique Henschen - Fontalero
The Swiss team has four riders and they are:
Caroline Hacki Rindlisbacher - Rigolleto Royal
Melanie Hofmann - Cazzago
Marcela Krinke Susmelj - Molberg
Hans Staub - Warbeau
Several countries are sending two individual riders. Ireland has selected two British born Grand Prix riders Dane Rawlins (Sidney) and Roland Tond (Pompidou), Poland is sending routinier Katarzyna Milczarek (Ekwador) and Zaneta Skowronska (With You), Russia has picked Tatiana Dorofeeva (Upperville) and Elena Sidneva (Romeo Star) and the Ukraine has selected Svetlana Kiseliova (Parish) and Inna Logutenkova (Stallone).
Photo © Astrid Appels
Related Link
Eurodressage Coverage of the 2013 European Dressage Championships