2013 Bundeschampionate Qualifier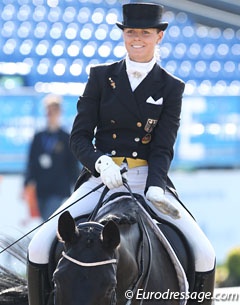 The 5-year old Dubarry B and the 6-year old Ribiano were the winners of the well attended Bundeschampionate qualification classes at the regional show in Erbes-Budesheim on 13 July 2013. Twenty six horses in total competed in the BuCha L- and M-level dressage horse tests.
The 5-year old division was won by Under 25 rider Stella Charlott Roth on the state stud owned Hanoverian bred Dubarry B (by Don Frederico x Rubinstein I-. The combination scored 8.0, won the class and was the sole pair to qualify for Warendorf. The runner up was Roxana Mohr on the Hanoverian Seraphine (by Scolari). She posted a score of 7.7.
The 6-year old age categorywas won by Ina Tempel on the Rhinelander bred Ribiano (by Rocket Star). Their 7.3 mark was enough to win the class but didn't suffice for a ticket for the Bundeschampionate. The second placed pair was Arjan van Loon aboard the Oldenburg bred Fioretto (by Fidertanz) with 7.2.
Photo © Astrid Appels
Results - 2013 Bundeschampionate Qualifier - Erbes-Budesheim
5-year old
1. Dubarry B - Roth, Stella Charlott -  8.00
2. Seraphine -  Mohr, Roxana  - 7.70
3. Sol de Espana  -    Acs, Robert  -  7.50
4. Fiolina - Krause, Nicola -  7.40
4. Lady Farbenfroh -  Schulmerig, Michele -   7.40
4. Ricoletto B  -  Zimmermann, Viktoria  - 7.40
7. Destino - Mayr, Angelika -  7.30
8. Final Countdown 1- Schumacher, Corinna -   7.00
9. Quecksilber - Haub, Katja -  6.90
9. Solitaire Black P -  Kerner, Stefanie -  6.90
11. Diamond's Peppy TB  - Gräf, Uta -   6.80
12. Lexington -   Gräf, Uta  -  6.70
13. Aristoteles -  Bintner, Viviane -  5.70
Sacre' coeur - Knötgen, Jennifer  - RET/DNS
6-year old
1. Ribiano - Tempel, Ina - 7.30
2. Fioretto -   Loon, Arjan van -  7.20
3. San Siro - Häschke, Antje - 7.10
4. Deichkind  -  Kühlborn, Nadine  -  7.00
4. Rapallo C.L. -  Riha, Kevin  - 7.00
4. Sisco's Dimmi Quando - Beutelmann, Denise -  7.00
7. Tiziano Terzani  -  Brandt, Carolin  -   6.70
8. Firlefanz K - Hörnke, Victoria  - 6.60
9. Candyman -  Kanz, Marcel - 6.50
10. Highline - Feix, Anni  -  6.40
11. Dundee Delight -Aust, Tanja  -   6.30
12. Rumburak - Zimmermann, Viktoria  - 5.90
Related Link
Eurodressage Coverage of the 2013 Bundeschampionate