2013 European Dressage Championships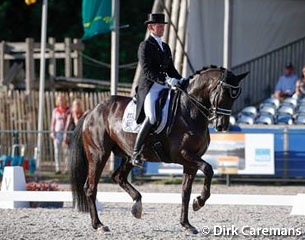 Dutch team trainer Wim Ernes has made his pick for the team that will represent The Netherlands at the 2013 European Dressage Championships in Herning, Denmark, on 20 - 25 August 2013. Based on the performance of the riders throughout the season as well as at the observation trials in Rotterdam and Hoofddorp, Ernes made a final selection.
The Dutch team for Herning is constituted by:
Adelinde Cornelissen - Parzival
Edward Gal - Undercover (reserve horse Voice)
Danielle Heijkoop - Siro
Hans Peter Minderhoud - Romanov
The first reserve rider is Patrick van der Meer on Uzzo.
If Adelinde Cornelissen is able to present a fit Parzival in two weeks time, she will be on the team even though the rider has not show Parzival at a single outdoor event in 2013. Ernes stated that "with Edward on the team, who can score above 80% and hopefully a fit Parzival, we can face the competition with countries such as England, German and home country Denmark."
Ernes also added that he chose Minderhoud as a "steady value" on the team because third choice Heijkoop is internationally quite inexperienced. Ernes' decision for Minderhoud and Romanov is based on the pair's kur victory in Aachen and long time Dutch team experience, even though Romanov did not compete at the first trial in Rotterdam. This weekend at the 2013 Dutch Championships in Hoofddorp Hans Peter's student Patrick van der Meer tied with his trainer in the Grand Prix, beat him in the Grand Prix Special and placed right behind him in the Kur. Van der Meer and Uzzo won the bronze medal, while Minderhoud ranked fourth overall.
Adelinde and Parzival will join the other Dutch team riders at the training camp to be held on 5 - August 2013, where the combination will be trained on the first day and have to ride a test on the second. "If Parzival is fit there he'll go with us to Herning. We know what Adelinde and her chestnut can do. It's only a metter if he's conditionally fit," Ernes explained. 
Photo © Dirk Caremans
Related Links
Scores 2013 Dutch Dressage Championships
Eurodressage Coverage of the 2013 European Dressage Championships