2013 CDI Hartpury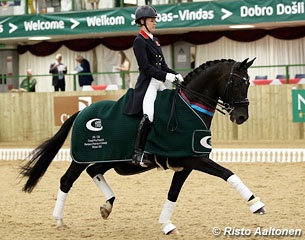 Olympic champion Charlotte Dujardin dominated Big Tour at the 2013 CDI Hartpury  on 5 – 7 July with her mentor Carl Hester's Uthopia. In Friday's Grand Prix, the 12 year old Metall-sired stallion left the judges in no doubt who their winner was with all five scores unanimously putting him first. Polish judge Wojtek Markowski at 'C' was just shy of 80% but the final score was 76.404%, the combination's new personal best.
Runners up were Michael Eilberg and Jon and Julie Deverill's exuberant Dimaggio mare Half Moon Delphi with 73% while Anders Dahl continued his Hickstead Premier League form of the previous week when piloting his wife Fiona's Wie Atlantico scoring 67.277% to finish third.
It was great for many to see Liebling II back in Britain, this time with new rider Jonna Schelstraete (NED) at only their second international together with a score of 66.064%.
Saturday's gala night performance featured the Grand Prix Freestyle and it was again Charlotte and Uthopia on great form. A packed crowd gathered in the Hartpury International Arena to see the duo perform a freestyle together for the first time on 'home soil' and they weren't disappointed despite just four in the class. Performing to Charlotte's 'old' music score which was replaced by the now world famous patriotic tunes, the duo are really 'growing' together and becoming more and more of a partnership. A score of 82.625 gave them a clear 13% margin of victory; Canadian judge Cara Whitham awarded them 91% for their artistic mark. See the video, courtesy of Hartpury, below.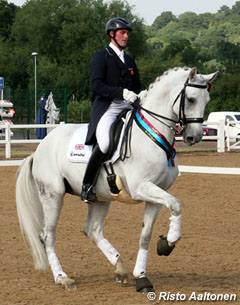 For second, third and fourth it was a closer battle and one which divided the judges. In the end, second spot went to Anders and Wie Atlantico with 69.6% while World Class Development rider Amy Stovold was third on Laura Swaine's exciting Don Schufro sired prospect Debonnet with 67.875%. Fractionally behind were Jonna Schelstraete and Liebling II on 67.250%.
On Sunday, four did battle for the Grand Prix Special honours and it was Michael and Half Moon Delphi on top with an improved score from Friday of 74.583%, which included a 76%+ score from Norwegian Kjell Myhre. This performance was enough to earn the combination that fourth coveted team place for the European Championships alongside Laura, Carl and Charlotte. Consistent campaigners Daniel Watson and Susie Farnon's Fideramber were second with 67.188% and they had the news that they're amongst the nominated combinations for the European Championships should they be required. Third went to Lindsey Roberts' Walkman BC ridden by Lisa Hopkins on a score of 65.792% with Alice Oppenheimer just behind on 64.938% with Sarah Openheimer's Headmore Delegate in the horse's first year at grand prix level.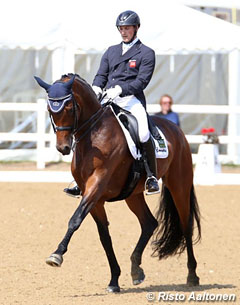 In the small tour, it was Michael's turn to be the dominant force and Lynne Crowden's mare Woodlander Dornroschen was his all-conquering partner. In the 24-strong Prix St Georges class, they edged a 2% victory with 74.316% over the USA's Katherine Bateson Chandler and Alcazar who train with Carl Hester. Anders Dahl continued his good form, this time with Selten HW. Bred in the USA at HWfarm using Sandro Hit, the striking black gelding is a recent addition to the yard having been purchased at the Equine Elite Auction in December last year. They scored 72.026%. Willow Kemp (Dragon Heart) and Hayley Watson-Greaves (WG Rubins Nite) completed the top five with 71.132% and 70.263% respectively.
In Saturday's Inter I, Michael and Woodlander Dornroschen again proved untouchable and upped their performance to score 74.263% for a near 4% win. However there two new names on the leader board this time round. Anne-Marie Perry, a member of the World Class Development squad, was runner up with her striking liver chestnut Feine Dame 52 on 70.5% and third went to the Furst Piccolo sired Fantastic Light, ridden by Zoe Sleigh, a whisker behind on 70.053%. Jane Green riding Theresa Stokes' W Valentine was fourth with 69.921% with Katherine Bateson Chandler again featuring with Alcazar in fifth on 69.658%.
Sunday was dancing day for the small tour and in the Albion Saddlemakers  Inter I Freestyle, Michael completed his hat-trick of victories with Woodlander Dornroschen, dam of Woodlander Farouche, with an assured performance to fall just shy of the magic 80% barrier on 79.075%. Zoe Sleigh and Fantastic Light, owned by mum Christine, proved how much they enjoy Hartpury and emulated the routine which won them the  Inter I Freestyle at this year's  Winter Championships to notch up a great 75.025% for second. Anne Marie Perry was just behind on Feine Dame with 74.7% with Jane Green and W Valentine just behind on 73.5%. Fifth were Hayley Watson Greaves and WG Rubins Nite with a personal best 72.350%.
Text by British Dressage - Photos © Risto Aaltonen
Related Links
Scores: 2013 CDI Hartpury
British Team Named for 2013 European Dressage Championships