Danish Warmblood Breeding News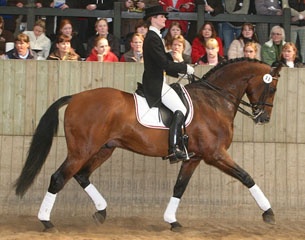 The Oldenburg and Elite Danish Warmblood stallion Solos Landtinus was euthanized following complications due to a inguinal hernia on Saturday 13 July 13, 2013. The stallion was 18 years old.
The Oldenburg branded stalion Solos Landtinus (by Landadel x Argentinus x Zeus) was bred by Theodor Schoening in Germany but made his fame as a sire in Denmark. After his move to Denmark and a successfu breeding career there, he was named an Elite stallion in 2003 and honored as Danish Stallion of the Year in 2005.
Solos Landtinus had a distinguished career in dressage, show jumping and as a breeding stallion. He was the overall winner of his 100-day test in Denmark, finishing first in dressage and third in jumping. In autumn of 2010 the stallion moved to Oak Hill Ranch in the U.S.A., where he continued to stand at stud.
His most famous offspring include Grand Prix mare Larina Hom, which represented Sweden under Minna Telde at the 2010 World Equestrian Games, Marcela Krinke-Susmel's Grand Prix horse Lazander, Wim Verwimp's Pari Lani, and Patricia Bottani's Pacito Vedstedholm.
"Although his job was that of breeding stallion at Oak Hill, I had the pleasure of riding this beautifully trained, outstanding horse," Oak Hill Farm's Richard Freeman told Eurodressage. "He was a pleasure to sit on. He will be greatly missed by all who knew him."
Related Links
Blue Hors Don Caruso and Solos Landtinus to Move to Oak Hill Ranch
Marcela Krinke-Susmelj, Dressage in the Riding Club
What's Happening: June 2012 - Part 1
Swedish Team for 2010 World Equestrian Games Selected