2013 European Dressage Championships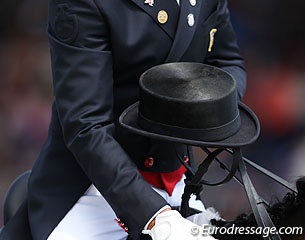 The FEI has denied the request of several dressage chef d'equipes to push the date of the definite entry for th 2013 European Dressage Championships from 17 July to 10 August 2013.
At the 2013 CDIO Aachen the chef d'equipes of the attending dressage nations met to draft a letter for the Herning show organizers and FEI to request a change of date for the definite entries. German chef d'equipe Klaus Roeser considered it not in the best interest of the horses to select a definite team five weeks in advance.
"We still have seven weeks to go until the European Championships," Roeser said in Aachen. "We agreed with the other chefs d'equipe that this tight schedule is tough."
FEI Dressage Director Trond Asmyr told Eurodressage that the FEI is not willing to change the date. "This would unfortunately not be possible due to logistical issue, especially hotels," said Asmyr.
Countries especially struggling with fitness issues of their best horses were eager to postpone the date for definite entry to give their horses more time to recover and obtain a better fitness level.
For the 2013 European Dressage Championships the "Last Day of Substition", the final moment a team can replace a combination with its alternate, was set for 14 August 2013, which is also unusually early as normally the Last Day of Substition is only one hour before the trot-up, which in Herning would be on 20 August 2013.
The FEI has shown willingness to change that date. "We have changed the deadline for substitution till two hours before the start of the Horse Inspection, as requested by some of the Chefs d'Equipe," Asmyr told Eurodressage.
Photo © Astrid Appels
Related Links
German Federation Announces Long Listed Nominees for 2013 European Championships
Eurodressage Coverage of the 2013 European Dressage Championships