2013 World Championships for Young Dressage Horses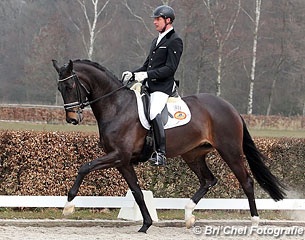 The group of the selected Dutch horses for the 2013 World Young Horse Championships in Verden is slowly taking shape. On Monday 1 July 2013 the fifth Dutch WCYH selection trial and the group of 5-year olds has been shaped, whereas four horses still have to be dropped from the 6-year old group.
Selector Johan Hamminga helped the riders of the long listed horses to warm up their horses, before the selection committee reviewed them in one of the tests that will be ridden in Verden.
"We selected seven 5-year olds for the World Championships. For Don Juan de Hus we requested a wild card," said Wim Ernes. "If it works all seven selected horses will be able to compete."
The sixth and final Dutch observation trial will take place on 15 July. Horses invited to that event are:
5-year olds
Dancer (Vivaldi x Tango) - Kirsten Brouwer
Dark Pleasure (Ufo x Jazz) - Gerdine Maree
Desperado (Vivaldi x Havidoff) -           Emmelie Scholtens
Don Juan de Hus (Jazz x Krack C) – Jessica Michel
Don Tango B (Contango x Jazz) - Diederik van Silfhout
Dorado (Krack C x Rousseau) - Emmelie Scholtens
Dream Boy (Vivaldi x Ferro) - Gerdine Maree
6-year olds
Cachet L (Jazz x Ferro) - Mirelle van Kemenade-Witlox
Capri Sonne (Rhodium x San Remo) – Dinja van Liere
Charmeur (Florencio x Jazz) - Emmelie Scholtens
Charon (Rubiquil x Havidoff) - Thamar Zweistra
Chardonnay (Winningmood x Flemmingh) - Vai Bruntink
Che de Jeu (Voice x Jazz) – Marieke van der Putten
Chicago M.H. (Vivaldi x Montecristo) - Jonna Schelstraete
Casper (Westpoint x Goodtimes) - Hans Peter Minderhoud
Clarc (Dreamcatcher x Lord Sinclair) - Lars op 't Hoog
Coco Chanel (Sandreo x San Remo) - Patrick van der Meer
Photo © Bri'Chel Fotografie
Related Link
Eurodressage Coverage of the 2013 World Young Horse Championships