2013 Bundeschampionate Qualifier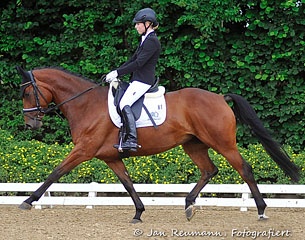 The 5-year old Caya and the 6-year old Fahrenheit were the winners of the well attended Bundeschampionate qualification classes held at the regional show in Wolfskehlen, Germany, on 20 - 23 June 2013. Thirty-one horses showed up at the event.
Lena Waldmann and the Hanoverian mare Caya (by Carabas) surfaced at the top of the ranking in the L-level class for 5-year olds. The combination scored 8.2 and referred Claudia Feldmann on the Oldenburg bred Sacharow (by Swarovski) to a second place with 8.1. Belgian Carl Cuypers maneuvered into third place on the Rhinelander Sensation (by San Dior) with 8.0.
Three horses in the 6-year old division obtained the necessary score of 8.0 or higher to qualify for Warendorf. The winner of the M-level test was Lena Waldmann on the Hanoverian bred Fahrenheit (by Fidertanz) with an 8.3 score. The Hungarian Robert Acs and his Hanoverian Fifty Cent (by Fidertanz) followed closely in the ranking on second place with 8.2. Rena Fraikin and the Oldenburg Fabulös (by Faustinus) were third with 8.0.
Photo © Jan Reumann
Results - 2013 Bundeschampionate Qualifier - Wolfskehlen
5-year olds
1. Caya - Waldmann, Lena - 8.20
2. Sacharow  - Feldmann, Claudia - 8.10
3. Sensation- Cuypers, Carl -  8.00
4. Hotline O -  Gerdes, Hermann - 7.70
5. Fiolina -  Krause, Nicola - 7.50
6. Sol de Espana -  Acs, Robert - 7.40
6. Roxy Music - Galmbacher Dr., Katja -7.40
8. Quenzel -  Schmitt, Manuela - 7.30
9. Esteban -   Pack, Dorte - 7.20
10. Tilly- Brünen, Stefan - 7.10
10. Destino - Mayr, Angelika - 7.10
10. Sierra Donna - Schmidt, Lea -  7.10
13. Seraphina W -  Tempel-Klein, Bettina -  7.00
13. Fürst Gutenberg -  Cherevishnya, Nataliya  -  7.00
15. Fräulein Rottenmeyer-   Tuerlinckx, Kristof -  6.80
16. Solitaire Black - Kerner, Stefanie - 6.70
17. Sir Donnerhalls Son - Gerdes, Hermann -   6.60
17. Dehli - Wollrath, Antonia -   6.60
19. Quecksilber -  Haub, Katja - 6.30
20. Sem -  Helmling, Bianca - 6.10
21. Desigual  - Pearce, Simone Alexandra  - 6.00
22. Starlet - Ra - Holona, Lisa  -   5.90
6-year olds
1. Fahrenheit  -  Waldmann, Lena -  8.30
2. Fifty Cent - Acs, Robert -  8.20
3. Fabulös  - Fraikin, Rena - 8.00
4. Samba Soleil - Tschöpe, Wolfgang  - 7.30
5. Donna Rupina  - Weiß, Sandra -  7.10
6. Firlefanz K  -  Hörnke, Victoria -  6.90
7. Flair - Pfeiffer, Kim -  6.50
8. Fernandio - Gernhard, Miriam -  6.40
8. Herston - Schneider, Anja -  6.40
Related Link
Eurodressage Coverage of the 2013 Bundeschampionate