2013 CDIO-PJYR Hagen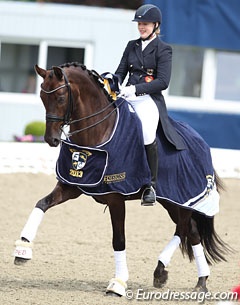 A victory shared between two of Germany's most elite junior riders, two young lady stars and successful FEI pony riders Jessica Krieg and Sophie Kampmann made experience count when they took the spotlight at the 2013 CDIO-PJYR Hagen on 13 - 16 June 2013. Jessica Krieg and Special Edition took out the Team and Individual tests, leaving team mate and dual runner-up Sophie Kampmann and Roman Nature to claim the lead spot in the kur.
"Hagen was really great, and we had such a good time. I always enjoy being there," said 16-year old Jessica Krieg.
Commenting on the fantastic organization, Jessica believed her horses really felt comfortable at Hof Kasselmann. She enjoyed the weekend, particularly being part of the Nations Cup CDIO Juniors winning team with her second junior horse, Florence. However, the real highlight for her was in the CDI tour, winning the team and individual with scores of 71.036% and 76.009%. The pair took second in the kur with 76.083% and felt that the results were the result of recent progress in training.
"Particularly in the individual test on Friday, I could feel that after the the last six weeks, Special Edition has made a huge leap forward and in Hagen it all came together. He was totally focused; everything went very smoothly and we got that wonderful score of 76%."
Jessica still faced some hurdles in the lead up to the CDI and in the weeks before Hagen. Her schoolwork was definitely her biggest challenge. "We are currently writing our end of year school exams, which of course require a lot of studying. Preparing for an event like Hagen is also quite time-intensive, as Hagen is the ultimate opportunity to get a place in the European Team. Therefore, time management has been quite a challenge," Krieg admitted.
After winning the European Championships two year ago in the Pony division, Jessica recognizes that the transition from pony to horse is challenging. So she feels wonderful to be back on top in competition. "I am very happy that the hard training of the last season is now paying off."
Her CDI Junior horse, Special Edition, is an 8 year-old gelding by Sir Donnerhall out of a Rohdiamant dam and Jessica feels the pair have a very good relationship. "He knows that I adore him and I'm sure he feels the connection between us. He is what his name already suggests: a special edition in many ways. His strength is his spectacular trot mechanism but the challenge is keeping him focused."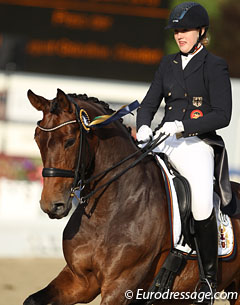 A very affectionate and cuddly horse, Special Edition likes to nibble on everything and always searches everyone's pockets for food. "He also has a lot of fun taking my saddle rack and my cleaning equipment apart. During training he is sometimes not so easy, as he wants to take things into his own hands but at the end of the day we are best friends again," Jessica added.
Her CDIO Junior horse, Florence, is a 10 year-old mare by Florestan out of a Northern Starlight xx dam, with three basic gaits which are super and a very consistent work ethic.
"She is a real diva and enjoys being cleaned and loves apples more than anything (however, eating apples is always bound to end in huge amounts of slobbering)," Jessica joked. "During training she is uncomplicated and she's always very hard-working."
Trained in Tönisvorst (near Düsseldorf) at Stable Marrón, Jessica rides everyday, except Sundays and sometimes Tuesdays.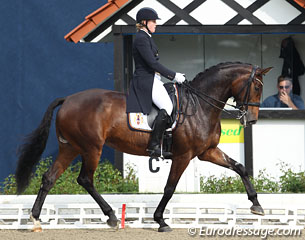 "Stefanie Meyer-Biss has been my coach since my pony time and our training is very diversified," she said. "We focus on looseness and suppleness. I also often take the horses on the race track and on the other days we focus on transitions and specific movements or parts of the tests."
Purchasing a third horse two months ago, Jessica is now also riding a 5 year-old gelding named Sergio Leone (by Scolari x Münchhausen). "He is going to be my horse for the future and he is developing very well. However, currently my focus is on my two Junior horses, Spezi and Flo, as the preparations for the European Championships in Compiegne, are now in full swing. After that I can't wait to ride Sergio Leone myself and more often."
Selected in the Junior team for the European Championships, Jessica has fulfilled her biggest goal for 2013 and hopes to earn enough points for Germany in the Team Championship to be a reliable team member. "It's an unbelievable feeling to have this dream/goal come true, and again I am so happy that my hard work paid off."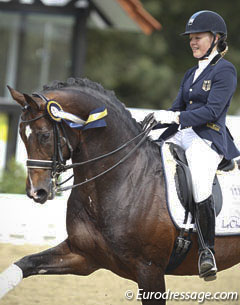 Runner-up in the Team and Individual test with 70.036% and 73.728%, Germany's Sophie Kampmann rose to victory in the kur and with a score of 76.792%. The 15-year old proved that she has successfully made the transition from pony to horse though ponies remains to be her prime focus this year. 
"Hagen was a great and very successful tournament," said Sophie. "I started with both my horse and pony and both were super."
Qualifying her pony Voyager for this year's European Pony Championships, Kampmann claimed the triple runner-up position at the Hagen CDI and with 75.04%, 77.8% and 79%. "Voyager and I have now had for 3 years together and I feel we are a good team and that he would do anything for me," she stated.
Competing in the Junior section, Sophie has been with her experienced schoolmaster Roman Nature (by Rohdiamant) for just over 6 months and knows she made a good choice with him. "We have already grown super well together and I am happy every day when I go into the barn and "Vogi" and "Rommie" welcome me with a neigh," said Kampmann.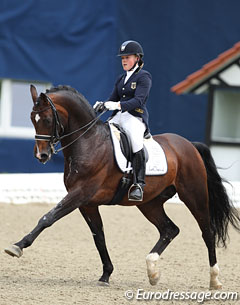 Trained by Janina Siemers in Sittensen, Sophie feels it is fun to ride in both the Pony and Junior section and knows this is a great way to learn a lot about the sport of dressage. "For me, it's much nicer to ride both than only one. Really, only the tests are different and my two horses are very similar, just one is a pony and the other is a horse," she laughed.
Set for the all important European Championship in Arezzo, Italy, with her pony, Sophie will then take her equine duo to the German Championships and continue to enjoy two-coined competition agenda. "I am both proud and happy to have such a beautiful and nice pony and horse," she added.
Text by Sarah Warne - Photos © Astrid Appels - No Reproduction Allowed
Eurodressage photographer Astrid Appels took photos of (almost) all combinations competing at the CDIO-PJYR Hagen. Contact us if you are interested in prints of your photos!
Related Links
Scores 2013 CDIO-PJYR Hagen
Semmieke Rothenberger Scores Triple 80% and Three Consecutive World Records