2013 Bundeschampionate Qualifier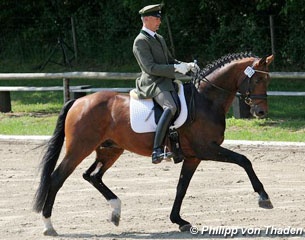 The 5-year old Bertolini and the 6-year old Scampolina surfaced at the top of the ranking in the L and M-level classes which serves as Bundeschampionate qualifiers for Warendorf at the selection event held at Gestut Kempke Hof in Plaaz, Germany on 14 - 16 June 2013. Twenty-three horses competed at the qualifier in Plaaz.
The 5-year old Westfalian bred Bertolini (by Belissimo M) achieved a winning score of 8.9 under Landgestut Redefin rider Roland Volkmann. Christina Lebens followed in second place on the Hanoverian bred Hamilton (by Hohenstein) with 8.10.  Jasmin Nussbaumer and the Hanoverian branded Furst Doncolo (by Furst Piccolo) with a 7.3 final score.
In the 6-year old division the winner of the Prietzen qualifier, Christian Flamm on the Hanoverian mare Scampolina (by Sinatra Song), also reigned in Plaaz when he scored a winning 8.4 mark in the M-test. Kempke Hof head trainer Ronald Lüders became the runner up with Luigi, a Hanoverian gelding by Light and Easy. He scored 8.2.  Lena Feistkorn and the German sport horse Herzensfurst (by Herzensdieb) ranked third with 8.0.
Photo © Philipp von Thaden
Results - 2013 Bundeschampionate Qualifier - Plaaz
5-year olds
1. Roland Volkmann - Bertolini (by Belissimo M) - 8.9
2. Christina Lebens - Hamilton (by Hohenstein) - 8.1
3. Jasmin Nussbaumer - Furst Doncolo (by Furst Piccolo) - 7.3
4. Julia Voigtlander - Filipa K (by Fidertanz) - 7.1.
4. Anja Wilimzig - For Set (by Florianus) - 7.1
6. Mike Kendzierske - Laudon - 7.0
7. Tahani Ibrahim - Hofdame (by Hofrat) - 6.8
8. Julia Voigtlander - Saumur (by Sancisco) - 6.7
9. Christin Hilger - San Torino (by Sandro Hit) - 6.6
10. Bart Desender - Istergold (by Donauzauber) - 6.5
Anne Maria Grossmann - Stern von Afrika (by San Amour) - RET/DNS
6-year olds
1. Christian Flamm - Scampolina (by Sinatra Song) - 8.4
2. Ronald Luders - Luigi (by Light and Easy) - 8.2
3. Lena Feistkorn - Herzensfurst (by Herzensdieb) - 8.0
4. Ronald Luders - Santorini (by Sandr Hit) - 7.6
5. Aaron Quinn - Sir Whitefood (by Saramant) - 7.5
6. Katharina Krauskopf - Sir Henri de Verlaine (by Sir Alfred) - 7.4
7. Christin Hilger - Dagostino (by Don Frederico) - 7.3
8. Christin Hilger - Supreme Surprise (by Stedinger) - 7.2
9. Katharina Krauskopf - Sansolino (by Samarant) - 7.0
10. Friederike Reinke - Devina's Day (by Denario) - 6.3
11. Rudiger Tremp - Carlsson (by Calino Tarnko) - 6.2
12. Tanja Schneider - Fashion Week (by Florianus) - 5.9
Doris Gortz - Lord of the Dance (by Londonderry) - DNS
Rudiger Remp - Sarkozy (by Freudenfest) - DNS
Julia Voigtlander - Syrio (by Sancisco) - DNS
Related Link
Eurodressage Coverage of the 2013 Bundeschampionate