2013 Bundeschampionate Qualifier
The 5-year old Scuderia and the 6-year old Donna Diana won the Bundeschampionate qualification classes at the regional show in Bargstedt, North Germany on 7 - 9 June 2013. A huge field of no less than52 combinations showed up for the L and M-level Dressage Horse tests to obtain their qualification score.
The 5-year old division was won by Lena Stegemann aboard Ingo Pape's Oldenburg licensed stallion Scuderia (by Sir Donnerhall I x Escudo). Bred by Fiona James and Nicola McGivern of Active Equestrian in the U.K., Scuderia scored a whopping 8.9 and reigned supreme ahead of 31 other 5-year olds. The runner up in the class was Holga Finken aboard the Hanoverian bred Sinfony (by Scolari x Conteur I) with 8.2. Birgit Wellhausen-Henschke and the Hanoverian mare Blueberry (by Breitling x Weltmeyer) finished third with 8.1. She tied with Roland Volkmann on Bertolini (by Belissimo x Show Star). The top five was completed by two combinations on 8.0: Holga Finken on Simply Red (by Sir Donnerhall I x Wolkenstein II) and Sissy-Nadine Braband on the Westfalian bred Fernet (by Florestan x Rubinstein).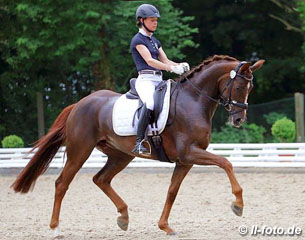 Two horses in the 6-year old division were able to qualify for Warendorf by scoring 8.0 or higher. Julia Katharina von Platen and her Oldenburg mare Donna Diana (by Dimaggio x Oldtimer xx) scored a strong 8.6 to win the class. Anna Sophie Fiebelkorn and the Hanoverian mare Secret Love (by Sir Donnerhall I x Rotspon) finished second with 8.3.
"I'm very happy about the victory in the Bundeschampionate qualification class," von Platen commented. She also competed the mare in the World Young Horse Championship German selection trial in Warendorf a few days later but was unable to qualify the chestnut mare for the second round.
Photos © Philipp von Thaden
Results - 2013 Bundeschampionate Qualifier - Bargstedt
5-year olds
1. Scuderia (by Sir Donnerhall I x Escudo I) - Stegemann,Lena - 8.90
2. Sinfony (by Scolari x Conteur) - Finken,Holga - 8.20
3. Blueberry (by Breitling W x Weltmeyer) - Wellhausen-Henschke,Birgit - 8.10
3. Bertolini (by Belissimo x Show Star) - Volkmann,Roland - 8.10
5. Simply Red (by Sir Donnerhall I x Wolkenstein II) - Finken,Holga - 8.00
5. Fernet (by Florestan I x Rubinstein I) - Braband,Sissy-Nadine - 8.00
7. Fernando (by Florencio I x Donnerhall) - Bewerungen,Eike - 7.70
7. Saphir von Nymphenburg (by Sir Donnerhall I x Ehrentusch) - Frank,Tessa - 7.70
9. Discovery (by Dancier x Raphael) - Berwe,Lena - 7.50
9. Royal Dream (by Royal Doruto x Florencio I ) -   Kalus,Malte - 7.50   
11. Quasar de Charry (by Quaterback x Wolkentanz I) - Pape,Ingo -  7.40   
12. Sacharow (by Swarovski x Donnerhall) - Feldmann,Claudia - 7.30   
12. Feodor Nymphenburg (by Farewell III x Dormello) - Frank,Tessa - 7.30   
14. Helios (by Herzensdieb x Lemon Park) - Byström,Angelica - 7.00   
14. Con Primero (by Conteur I x Don Primero) - Engeler,Andrea - 7.00   
14. Dancing Shadow (by Dancier x Fabriano) - Fritz,Daniel - 7.00   
14. Lance Armstrong (by Londontime x Weltmeyer) - Seewald,Dirk - 7.00   
18. Salvaro (by San Remo x Pik Bube I) - Bührig,Marco - 6.90   
18. Donna Karan (by Don Crusador  x Rotspon) - Günnel,Lena - 6.90   
20. Quintaner (by Quaterback  x Weltmeyer) - Frieling,Sandra - 6.80   
20. Sugar (by San Remo x Prince Thatch xx) - Frieling,Sandra - 6.80   
20. Sir Bo Bo (by Sir Donnerhall I x Rubin-Royal) - Wempe,Merethe - 6.80   
20. Lady Leticia (by) - Stark,Christina - 6.80   
24. Soccer City B (by Sir Donnerhall I x Weltmeyer) - Bauch,Mathias - 6.70   
24. Langdon B (by Londonderry  x Frenchman I) - Erhart,Dominic-Nathanael - 6.70   
26. Del Rey (by Desperados  x Rotspon) - Byström,Angelica - 6.60   
26. Sunshine (by San Remo x Frenchman) - Erhart,Dominic-Nathanael - 6.60   
26. Sevilla (by Scolari x Matcho AA) - Otten-Willers,Jessica - 6.60   
29. Dieffenbach (by Don Henrico x Fabriano) - Ersil,Susanne - 6.40   
30. Lancaster M (by Laudabilis x Davignon) - Meer,Johanna van der - 6.20   
31. Daily Delight M (by Dancier x Akut) - Herfurth,Chantal - 5.70   
Delgados - Fiebelkorn,Anna-Sophie - RET
6-year olds
1. Donna Diana (by Dimaggio x Oldtimer xx) - Platen,Julia-Katharina - 8.60
2. Secret Love (by Sir Donnerhall I x Rotspon) -Fiebelkorn,Anna-Sophie - 8.30
3. Franklyn (by Florencio I x  De Niro) -Keller,Kathleen - 7.70
4. Hot Chili (by Hotlinex  Latimer) -Bührig,Marco - 7.60
5. Klosterhedens Zelecktion (by Zorro Son x Midt-West Ibi-Light) - Blanken,Stefan - 7.40
5. Riva del Garda M (by Rotspon x De Niro) - Bührig,Marco - 7.40
5. Dawn of Rise (by Danone I x Kennedy) - Kahle,Daniela - 7.40
8. Revue  (by Royal Blend x Anatas xx) - Frieling,Sandra - 7.30
8. Ripley  (by Rousseau x Paradiesvogel) -  Platen,Julia-Katharina - 7.30   
10. Sanciscana M (by Sandro Hit x Rohdiamant) - Dahms,Jessica - 7.20   
11. Hayden HR (by Hofrat x De Niro) - Köpke,Anna-Maria - 7.10   
11. Dark Dancer (by Dancier x Hohenstein) - Prigge,Elisa - 7.10   
13. Lantos on Tour (by Locksley II x  Matcho AA) - Loison,Raphael - 7.00   
14. Fantastique (by Fidertanz x Dream of Heidelberg) - Busch,Marcus - 6.90   
14. Strahlemann (by Sandro Hit x Weltmeyer) - Heemsoth,Greta - 6.90   
14. Sir Whitefoot (by Samarant x Andiamo)  - Quinn,Aaron - 6.90   
17. Indira (by Stedinger x  Danny Wilde) -Alouani,Siham - 6.50   
18. Star of Rubica (by Sandro Hit x Royal Diamond) -Lange,Frank - 6.30   
19. Don Diabolo (by Don Frederico x Mont Du Cantal AA) -Klausberger,Mathilde - 6.00   
Dialog (by Don Marcello x Archipel) - Almeida Pavao,Pedro - RET
Related Link
Eurodressage Coverage of the 2013 Bundeschampionate