2013 Danish Dressage Championships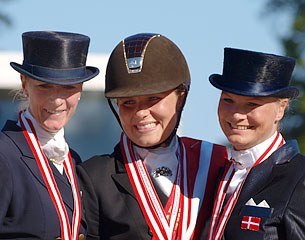 The 23-year old Anna Kasprzak toasted a triple victory and became the golden girl at the 2013 Danish Dressage Championships in Broholm on 7 - 9 June 2013 outclassing more seasoned professionals and former Danish Olympic team medallists with her schoolmaster Donnperignon (by Donnerhall x Mozart).
Kasprzak and Donnperignon led the Grand Prix, the Grand Prix Special and the Grand Prix kur with 75.681, 77.5%, and 81.9%, finishing with a total average of 78.360% ahead of silver medalist Nathalie Zu Sayn-Wittgenstein on her Olympic mount Digby and Danish shooting star Lone Bang Larsen on Fitou L. The much talked about new combination, Andreas Helgstrand and Akeem Foldager, landed fourth place overall.
"The weekend was just great and I felt that Pepe (Donnperignon) was in such a good shape leading up to the competition," Anna told Eurodressage. "I knew I had to be really well prepared to reach my goal, which was to make it into the top 3, and when we had our training lesson on the Thursday before, together with Andreas Helgstrand at Broholm, I had a really good feeling."
Despite a nice, clear test in Friday's Grand Prix, Anna knew that the number two rider, Zu-Sayn Wittgenstein, was just 0,2% behind her, with third and fourth place also very close. "I felt at that point that anything could happen so I had to perform well in Saturday's Grand Prix Special," she explained
Having only ridden the test once, because last year Olympic Special was contested, Anna was actually a little bit nervous before this second round. Now she  is proud to say it became the best ride of her career with Pepe. "I was just so happy about that and for the first time in my career I had tears in my eyes when I finished a test. He was just so amazing to ride, she said.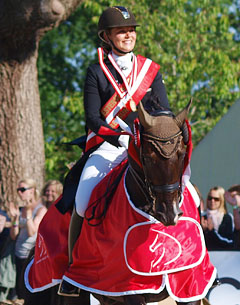 More relaxed ahead of Sunday's kur, Anna felt that Pepe was a little tired before that final test. "As a result our piaffe was not as good as on  Saturday, but we made no mistakes and lifted to a new personal record of 81,9%. I was so happy and proud of him!"
Still coming to terms with her title as Danish Champion, Anna is feeling pretty good and is positive that her training schedule is paying off. "I think I now know Pepe pretty well and I am continuing to improve on how best to manage his breaks and training plan between the competitions. I know how he must feel and I think that's why we were at our very best level during these Championships," she said.
Princess Nathalie, who took the gold last year, is her greatest competition at the moment, but Anna feels the competition is particularly strong this year in Denmark. Lone Bang Larsen has made incredible international break through this year and according to Anna, "Andreas and his new horse have also had great success already," she added. "Overall I feel there were many strong riders in the field."
With dressage in Denmark is at its highest level ever, Anna is glad to have a partner at the top in such an exciting time, especially with the Europeans taking place on home turf this year in August.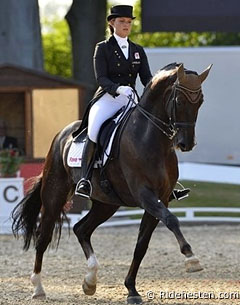 Her Finnish warmblood Donnperignon has proven a perfect partner for her. The Kasprzak family acquired the gelding in September 2011 from Christoph Koschel through the help of horse dealers Andreas Helgstrand and Patrik Kittel. "Pepe has a great personality and at home he is often very wild to ride but always, when I get to the show, he knows that this is time to get serious."
The 14 year-old gelding is just one of eight horses in Anna's stable but none that would match up to his talent at the moment. "I don´t have any horse to replace Pepe right know but in a year or two I think I will have one," she admitted. 
Continuing her training with Andreas Helgstrand and team trainer Rudolf Zeilinger, Anna will journey to Aachen and then hopefully the Europeans in Herning. "I just really want to Pepe happy and healthy and then of course there's Rio in 2016," she stated.
by Sarah Warne for Eurodressage
Photos © Ridehesten.com - Danish Rideforbund
Related Links
Scores 2013 Danish Dressage Championships
Photo Report: Kasprzak's Streak of Success Continues at 2012 CDI Mannheim
Taping For Talent
Anna Kasprzak Submitted to Danish Olympic A-Team
Kasprzak to Miss 2012 Danish Championships, Donnperignon Injured