2013 World Championships for Young Dressage Horses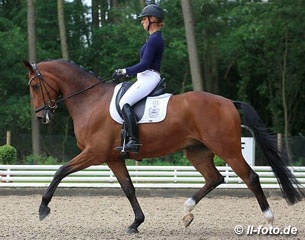 Following a first selection trial in Warendorf today, the German Equestrian Federation has announced the long list of German horses which are allowed to return to the second selection event. The first qualifier was held at the DOKR head quarters in Warendorf on 11 - 12 June 2013 and twenty-four 5-year olds and twenty-six 6-year olds participated.
The German Equestrian Federation opted for a new format this year, once again. Last year there was only one trial consisting of a training day and a test riding-day. This year the format has been extended to a second selection event before the team is picked.
Fifty combinations gathered in Warendorf for the training day on 11 June 2013 and the riding of the preliminary test on 12 June 2012. The selection committee included judges Reinhard Richenhagen and Klaus Ridder as well as German team trainer Monica Theodorescu.
The second selection trial will be on 2 July 2013 and the combinations have to performs the Finals Test. 
The horses invited to this event are:
5-year olds
Belarus, Westfalian stallion by Beltoni x Riccione - Rider: Claudia Rüscher
Damon's Satelite, Westfalian gelding by Damon Hill x Rubin Royal - Rider: Helen Langehanenberg
De Nino, Hanoverian gelding  by Don Schufro x Sandro Hit  - Rider: Isabel Bache
Diabolo Nymphenburg, Hanoverian gelding  by Don Crusador x Weltmeyer  - Rider: Johanna von Fircks
Foundation, Hanoverian stallion  by Fidertanz x De Vito - Rider: Anja Engelbart
Frida Gold, Oldenburger mare by Fidertanz x De Niro - Rider: Eva Möller
Herbstkönig, Trakehner stallion by Interconti x Timber - Rider: Theresa Whaler
Hotshot, Hanoverian stallion  by Hotline M x Donnerhall  - Rider: Hermann Burger
Scara Boa, Hanoverian mare by Scolari x Wolkenstein II  - Rider: Lena Stegemann
Scuderia, Oldenburger mare  by Sir Donnerhall xEsudo I  - Rider: Lena Stegemann
Sir Heinrich OLD, Oldenburger stallion  by Sir Donnerhall x Fürst Heinrich - Rider: Anja Wilimzig
6-year olds
Damon's Delorange, Westfalian mare by Damon Hill x Rubin Royal  - Rider: Helen Langehanenberg
Dante Delux MJ, Hannoveraner stallion by Danone I x Rouletto - Rider: Matthias Bouten
Diamigo, Oldenburger gelding by Dimaggio M x Freudenprinz - Rider: Helen Langehanenberg
Discovery OLD, Oldenburger gelding  by Dimaggio M x Classiker - Rider: Heiner Schiergen
Domenikus, Hanoverian gelding  by Don Marco x Rosentau - Rider: Holga Finken
Doubleyou W, Hanoverian gelding by Don Romantic xRohdiamant - Rider: Laura Stigler
Filaro, Oldenburger gelding by Fidertanz x Landsieger I  - Rider: Helen Langehanenberg
Haya, Westfalian mare  by Hotline x D'accord  - Rider: Jan-Dirk Gießelmann)
Lord Carnaby, Rhinelander stallion by Lord Loxley x Rocket Star - Rider: Beatrice Buchwald
Sa Coeur, Oldenburger gelding  by . Sir Donnerhall I x Don Davidoff - Rider: Eva Möller
Sandiego, Mecklenburger gelding by Sancisco x Davignon - Rider: Carola Koppelmann
Sean Connery, Hanoverian stallion  by Sir Donnerhall I x Rotspon  - Rider: Therese Nilshagen
Silbermond, Westfalian stallion by Sir Donnerhall x Ramiro Son  - Rider: Ingrid Klimke
Related Link
Eurodressage Coverage of the 2013 World Young Horse Championships