2013 Bundeschampionate Qualifier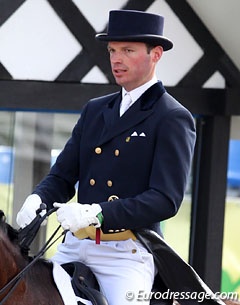 The 5-year old Damon's Diamant and the 6-year old Suena have won the Bundeschampionate qualification classes held at the big regional dressage competition at castle Monrepos in Ludwigsburg, Germany, on 7 - 9 June 2013.
Ton de Ridder's assistant trainer Geertje Hesse steered the Westfalian bred Damon's Diamant (by Damon Hill x Dimension) to victory in the L-level dressage horse test for 5-year olds. The pair received 8.0 from the panel of judges and referred the German based Hungarian Robert Acs on the Oldenburg Sol de Espana (by Fidertanz x De Niro) to a second place with 7.6.
Thomas Wagner and his mother Christine's 6-year old Oldenburg bred Suena (by Sir Donnerhall I x Day Dream) made a strong impression on the judges and scored 8.8 to win the M-level test. This outstanding performance also prompted the pair to participate in the German selection trials for the 2013 World Young Horse Championships in Verden. Suena is bred by American Joan Sims of Highlife Farms in Florida. Nicole Casper and Simone Meder's Baden Wurttemberger bred Lord Leopold (by Lord Sinclair I) were the runners up with 8.3. They tied with Urusla Wagner on the Oldenburg Dilenzio (by Duino).
Results - 2013 Bundeschampionate Qualifier - Ludwigsburg
5-year olds
1. Damon's Diamant  (by Damon Hill) - Hesse, Geertje - 8.0
2. Sol de Espana  (by Fidertanz) - Acs, Robert -  7.6
3. Dallas  (by Don Diamond) - Casper, Nicole -  7.5
4. Dancing Darling   (by Dancier) - Gerber, Anna-Katharina - 7.3
5. Dancing Mirena  (by Don Diamond) - Eckstein-Unger, Anica  -7.2
6. Queen of Europe  (by Quaterback) - Kaiser, Claudia - 7.1
7. Hertha Heuwer  (by Gribaldi) - Proppe, Julia Chirin - 6.8
Dark Diamond (by Don Diamond) - Haug, Gabriele - DNS
6-year olds
1. Suena (by Sir Donnerhall) - Wagner, Thomas - 8.8
2. Lord Leopold (by Lord Sinclair) - Casper, Nicole  - 8.3
2. Dilenzio  (by Duino) - Wagner, Ursula  - 8.3
4. Degas K  (by De Niro    ) - Schaudt, Jasmin  - 8.0
5. Fifty Cent (by Fidertanz) - Acs, Robert -7.7
6. Semper Fidelis F (by Sir Sandro) - Holz, Cordula  - 7.6
6. Don Rudolfo  (by Don Frederico) - Muhr, Kathleen -  7.6
8. Barnebie (by Baroncelli) - Wagner, Ursula - 7.5
9. Sir Admiral from Schneider  (by Sir Donnerhall) - Schneider, Christiane -  7.2
10. Urtanz  (by Hirtentanz) - Proppe, Julia Chirin - 7.1
11. Diamond's Rubioso  (by Diamond Hit) - Hertwig, Amaya -   6.3
12. Di Layla - Boschen Petra  - 5.7
Higgens  (by Hotline) - Stotmeister, Helga  - DNS
Zauberdeyk (by Van Deyk) - Schneider Dorothee - DNS
Related Link
Eurodressage Coverage of the 2013 Bundeschampionate