Spanish Dressage News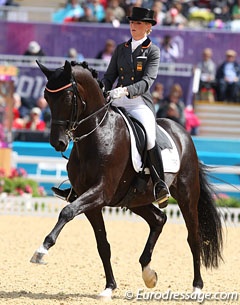 Danish Olympian and 2006 WEG individual silver medalist Andreas Helgstrand has become the new coach of the Spanish Barbançon sisters. After saying adieu to their trainer of two years, Anky van Grunsven, Morgan and Alexandra moved their horses north to Denmark and will be trained by Helgstrand in the future.
In search of a coach who is dedicated to bringing 20-year old Morgan and 17-year old Alexandra to a next level, the Barbançons picked Helgstrand because of his great work so far with talented young Grand Prix riders such as 23-year old Anna Kasprzak, who was a 2012 Danish team Olympic rider and who became 2013 Danish Dressage Champion last weekend.
"It is a a great feeling to be with a new coach," Morgan Barbançon Mestre told Eurodressage. "Andreas is really motivated and open minded. I have a very good connection with him and he seems to really like my horses. I enjoy being in a new barn, meeting new people, and have different visions on training."
After a period of injury, Morgan's top horse Painted Black (by Gribaldi x Ferro) is now back on full form and being prepared to compete at the 2013 CDI Falsterbo and 2013 CDI Perl in July. With good results at those two shows, Morgan will be up for Spanish team selection for the 2013 European Dressage Championships in Herning.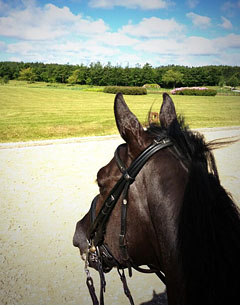 Painted Black has taken up a box in Helgstrand's stallion barn, but is not yet up for stud this season.  "Painted Black is really happy here," said a beaming Morgan. "He loves the new facility. He is in super shape and Andreas understands him well. I've never felt PB so fresh and eager to work."
June is a busy month for Morgan who is preparing her second horse Heimliche Liebe (by Hohenstein x Davignon I) for the 2013 CDIO Rotterdam next week, followed by one week of exams for her International Business and Management studies at the Fontys University of Applied Sciences in Eindhoven. At the end of the month, Morgan will go to Denmark for an extended two-month period to prepare for Herning.
The 17-year old Young Rider Alexandra Barbançon Mestre is also thoroughly enjoying her new experiences at Helgstrand's yard in Vodskov, Denmark. "I have had a nice feeling trained with Andreas," said Alexandra. "He is very focused on both horse and rider and I believe that is very important!'
For the first time since her international show debut, Alexandra will not be on the Spanish team for the European JR/YR Championships because her horse Webbe sustained a minor injury. The liver chestnut Dutch warmblood gelding (by Jazz) is fit again but only started training recently. "I didn't want to rush his training just to compete there," said Alexandra. "Of course I'm sad not being able to represent Spain but I'd much rather keep my horse healthy."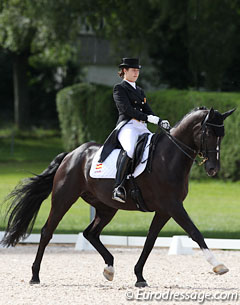 Believing in the saying 'when a door closes, a window opens', Alexandra has decided to make the transition to the Under 25 category and has been focusing on training the Grand Prix programme on her schoolmaster Mr Q (by Matcho AA). "We think it was the perfect timing: changing trainers, changing level," Alexandra explained. "I am so blessed with my horses and very lucky to already have a Grand Prix school master with whom I have been practicing the exercises. I am really looking forward to this exciting experience."
Alexandra's short term plans are competing Mr Q at U25 level at some national shows to get some mileage under her belt. "Webbe will slowly come back in the work and head to Grand Prix," she added. "He can already do most of the exercises; we are just missing the 15-tempi changes." Alexandra does not want to rush her career but take the time for herself and the horse to learn the Grand Prix thoroughly. "I just want Webbe to learn everything properly and only encounter good experiences with these new exercises," she said. "I want him to think 'Oh yay, let's do some piaffe and passage'."
Photos © Astrid Appels - private
Related Links
Barbancon and Anky van Grunsven Part Ways
Heimliche Liebe, New Grand Prix Horse for Morgan Barbancon
Alexandra Barbancon "Intouchable" on Young Riders' Debut at 2013 CDI Vidauban
Morgan Barbancon Ventures Far East to Visit Heilan Equestrian Centre