2013 World Championships for Young Dressage Horses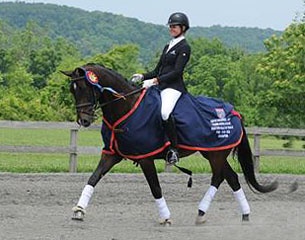 The best young dressage horses on the American East Coast delivered top performances at the 2013 U.S. Young Horse Dressage Eastern Selection Trial in Leesburg, Virginia. Held in conjunction with the VADA/NOVA Summer June Dressage Show, these five- and six-year-old horses aimed for a spot to represent the U.S. at the 2013 World Championships for Young Dressage Horses in Verden, Germany in August.
Combinations needed to score 8.2 or higher to be eligible to represent the U.S. in Verden. Selection Trial competition had both five- and six-year-olds perform their respective FEI Preliminary Tests which accounted for 40% of the overall score. The remaining 60% of scores was earned in their respective FEI Final Tests.
Silva Martin (Unionville, PA) had an impressive weekend, claiming the top three places with her mounts in the five-year-old division. Fortissimo B (by Fabuleux x Rubinstein I) took home the win after earning a 7.700 in the Preliminary Test and an 8.120 in the Final Test for a total score of 7.952 with Martin. With that score, Camilla Van Liew's Hanoverian stallion earned a place on the Markel/USEF Short List.
"Fortissimo B was great on both days," said Martin. "He really tried for me and I think he is going to have an amazing future!"
Melinda Walton's Hanoverian gelding Benefactor RRS (by Bonheur x Rubinstein I) earned a total score of 7.80 with Martin after receiving a 7.56 in the  Preliminary Test and a 7.96 in the Final Test. Martin also rode Anne Laver and Windurra USA, LLC's Dutch Warmblood gelding Di Solitaire (unknown breeding) to receive a 7.52 and a 7.72 for a total score of 7.64.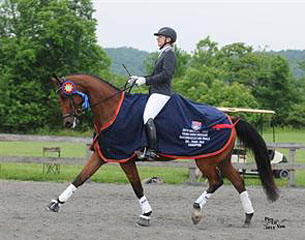 In the six-year-old division, Kim Gentry (Germantown, TN) and Leonardo (by Solos Landtinus x Rambo) came out on top with a 7.32 in the  Preliminary Test and a 7.92 in the  Final Test for a total score of 7.68. The Danish Warmblood gelding performed well for rider/owner Gentry and showed much potential for the future.
"I am really excited about the outcome. The feedback from judges on Saturday's test was that I needed more collection and more engagement, so I really worked on that and showing clearer transitions within the gaits on Sunday," said Gentry. "I thought about where I could show him off, which is in his changes, so I asked him for a more uphill balance with his changes and he really delivered. Being so young, I can feel that there is more to come out of him which is really exciting."

Alice Tarjan (Oldwick, NJ) rode her own Oldenburg mare Elfenfeuer (by Florencio x Sion) to a second place finish, earning a total score of 7.24 after receiving a 7.30 in the  Preliminary Test and a 7.20 in the FEI Final Test.
Photos © Picsofyou
Related Links
Eurodressage Coverage of the 2013 World Young Horse Championships
Dalina DG and Vitalis Win 2013. U.S. Western Selection Trial for Verden