2013 European Junior and Young Riders Championships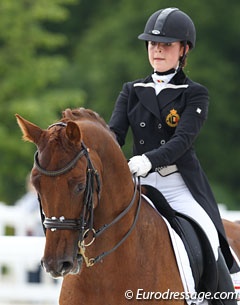 The Belgian equestrian federation (KBRSF) and Belgian chef d'equipe Laurence van Doorselaer announced the names of the riders that will represent Belgium at the 2013 European Junior and Young Championships in Compiegne, France, on 9 - 14 July 2013.
The Belgian Junior Riders team includes:
Charlotte Defalque - Boticelli
Jamina Gijsels - Zico
Leyla Larsson - Sir Oliver
Nastasja Roussel - Amageddon
The reserve juniors are Lavinia Arl (Equestricons Next One) and Noa Moermans (Beach Boy van de Zuuthoeve).
The Belgian Young Riders team includes:
Kirsten Adriaenssens - Roycroft
Eline Borrey De Coninck - Don Warohn EDC 
Alexa Fairchild - Timor 
Jorinde Verwimp  - Tiamo
The reserve young riders are Lisa Busschaert (Opus One) and Carole Schepens (Velvet Dream).
Photo © Astrid Appels
Related Link
Eurodressage Coverage of the 2013 European Junior/Young Riders Championships