KWPN Breeding News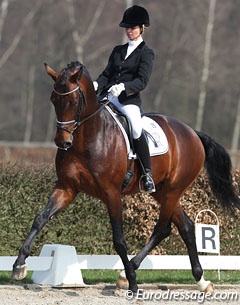 As the sole innovative studbook in the world, the KWPN society publishes the OC-index which measures the heritability of osteochondrosis in KWPN licensed stallions. In February the studbook released the index for popular stallions Bordeaux and Bretton Woods.
While osteochondrosis is strongly influenced by environmental factors, such as feeding and stable management, a large part of it is also inheritable. Through selective breeding the chance for OC and OCD can be reduced and KWPN is making a strong effort -- and statement -- by making the OC-information of their stallions public to breeders. This gives them the opportunity to stay far away from OC-problems which can result in a total loss of value of one's foal.
The KWPN randomly select foals and has them x-rayed at the age of 11-14 months. The OC-index has a medium of 100. A score below 100 indicates that x-rayed foals have displayed OC-findings, whereas a score above 100 means that less or no findings have been documented. Each index comes with a reliability percentage, only published when that figure is above 55%.
The KWPN society normally refuses to licence stallions with a severe OC-remark, except when they show exceptional talent and potential.
Recent additions to the OC-index are the 2007 born stallions Bordeaux (by United x Gribaldi) and Bretton Woods (by Johnson x De Niro x Romancier). According to the KWPN society Bordeaux has an OC-remark, class C, on his right hind leg hock. However when vetted for the Swedish warmblood society the bay stallion was found to be clear.  Bretton Woods has a class C remark on right hind leg hock and stifle.
Bretton Woods has an OC-index of 96, with a reliability of 63%. This can be considered a clear indication towards heritability of OC. Bordeaux has an OC-index of 101, 64% reliability, which means he neither improves the status nor burdens his offspring with heritable OC.
Source: Ridehesten.com
Photo © Astrid Appels
Related Links
Bretton Woods Sold to Paul Schockemohle!
Bretton Woods, Winner of the 2010 KWPN Autumn Stallion Performance Testing
Bretton Woods, Winner of the 2010 VSN Trophy Finals
Desperado, Charmeur, Bordeaux Win 2012-2013 KWPN Stallion Competition Finals