Eurodressage F.O.C.U.S.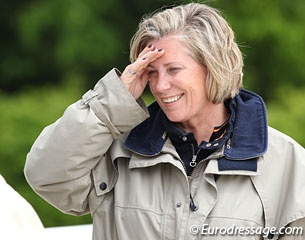 Recenty appointed Spanish junior and young riders team trainer, British Grand Prix rider Nicky Barrett has succeeded German Ralph Michael Rash and is thoroughly enjoying her role with Spain's younger dressage elite.
"I was made the new team trainer for Spain as the previous one was in discussions with France, following Jan's appointment to train the French senior team," Barrett told Eurodressage. "The Spanish federation didn't want to come into conflict with France, so hence I was appointed."
Fulfilling her new role for just over two months, Nicky was on the ground at the 2013 CDI Madrid on 23 - 26 May 2013, as well as the 2013 CDI Compiegne this weekend, and happily got the chance to see her riders in action. "The CDI in Madrid was a busy but well run show. There, I was able to view classes at every level, from children's classes at basic level, to para riders, young horses, national and international juniors, young riders, plus small and big tour," she explained. 
The highlight of her job so far has been the opportunity to work closely with the Spanish Federation, which Nicky had found to be very willing and helpful in her new role. "The Spanish Federation and in particular Luis Lucio have been super to work with. They are both open and professional," she said.  However, her new post has not been without its pitfalls and some chilly early morning starts has tested Nicky's enthusiasm just a tad. "The lowlight of the role so far was waking up to snow in Segovia at a training clinic, not at all what I was expecting in May," she joked.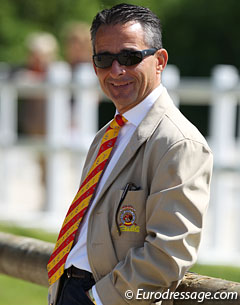 With a busy year ahead, Nicky has to make major decisions right after the CDI Compiegne, when they will not only announce the team for the Europeans, but also select some secondary teams to give a wider range of riders valuable competition experience. "We will also send a second team to Hickstead as I am very keen for riders to get experience at a foreign international. Although there are many internationals in Spain, which of course need to be supported by the riders, it is not the same as actually making the trip to other nations," she said. 
In the past, riders have made the European's their debut experience outside Spain but Nicky feels this is not the recipe for the best results. Giving training clinics in the two main areas of Spain, Barcelona and Madrid, Nicky will have seen all the riders in international competition before the selection is announced and hopes to learn more about each rider, both on and off the horse. "To achieve this we will also have an unmounted activity day, where sport science will be involved for the riders, trainers and support staff for the teams going to the Europeans and Hickstead," said Barrett. 
While in the past the Spanish trainer has worked one-on-one with the country's top riders, Nicky is taking a slightly different approach to hopefully provide the kind of more long term support that riders can benefit from everyday.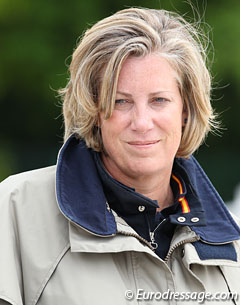 "What is maybe different from the past is that I am not working directly with the riders but the trainers. So at a training clinic the riders attend and are coached by their home trainers. Then Luis and I discuss the lesson and make suggestions to the private trainers. So all actual direct instruction to the riders is done by their normal trainer; I believe this is the way forward as these are the people who are going to make the most difference to the riders, as they teach them on a daily basis."
Aware of the importance of her new role, Nicky equally appreciates the role each individual trainer plays in the careers of the Spanish elite and does not want to take over their training but just make their job easier. "I am not here to take their pupils away from them but to give them an additional eye and support," she acknowledged. "I believe so far the trainers have understood this and have worked well with me. They have been prepared to try things they might not necessarily do and are getting to know me already, even in the short time we have had working together."
by Sarah Warne for Eurodressage
Photos © Astrid Appels
Related Links
Nicky Barrett Appointed Spanish Junior and Young Riders Team Trainer
Nicky Barrett Claims Her First Grand Prix Champion's Title at 2002 British Dressage Championships