2013 CDIO Vidauban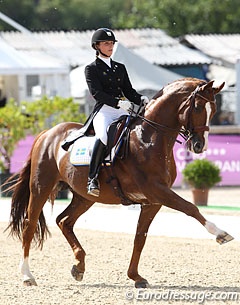 Minna Telde and Team Sweden has a successful competition weekend at the 2013 CDIO Vidauban on 17-19 May 2013.  Team Sweden was only narrowly edged out by the Dutch team in the Nations' Cup and Olympian Minna Telde started with a third in the Grand Prix but rose to claim top spot in both the Grand Prix Special and Kur to Music.
"What a weekend it was," said Minna. "This is Don Charly's first three-day event in more than three years and Vidauban felt like a wise choice. Dino went in with pricked ears and I could feel he thought the experience was fun, especially going into the Kur."
Finishing day one with a score of 69.797% in the Grand Prix, Minna was part of the runners-up Nations Cup team just a frustrating fraction behind winners, The Netherlands. "It was the premiere of the Nations Cup and the Swedish team was comprised of Tinne Vilhelmson, Jeanna Högberg, Caroline Dacourt and I. We had victory in sight but finished second, beaten by just 4 tenths. Very irritating," she laughed.
Admitting she still had some small mistakes, Minna felt that her 16-year-old Hanoverian stallion Don Charly (by Don Gregory x Inschallah AA) was in top shape and while he can seem too relaxed, he always rises to the occasion. "He is a fantastic horse, particularly to ride in the arena. He felt a little tired as we started to warm up but as soon as we enter the arena he really snaps to! What a wonderful horse."
Going above the 70's in the Special, Minna scored a 71.167% to take out first place ahead of team mate Tinne Vilhelmson. She finished off a successful, yet slightly less sunny weekend for Sweden with a 73.775% winning kur! "The weather was not with us. We had been looking forward to the heat and some sun but it was pouring rain almost the entire weekend," Telde explained.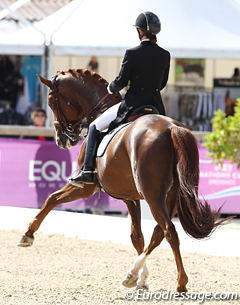 Hoping that after a rained out CDI Munich the weekend before the Swedes would have more luck in the South of France, Minna and her team mates had to deal with a day of pouring rain on Saturday and a some more showers Sunday afternoon.
Packing up all the wet gear and winning horses for the three-day long journey home, Minna needed three travelling days to get back to Sweden. First they went from Vidauban to Lyon, where they stopped overnight and then they made make another stop-over in Munster before rolling on home. "It's still a day's travel less than our team mate Tinne and her horses," Telde explained about the complex logistics of competing Sweden based horses in the southern parts of Europe.
by Sarah Warne for Eurodressage
Photos © Astrid Appels - No Reproduction Allowed
Eurodressage photographer Astrid Appels took photos of all combinations competing at the CDIO Vidauban. Contact us if you are interested in prints of your photos!
Related Links
Scores: 2013 CDIO Vidauban
Laurens van Lieren Goes Full Blast at the 2013 CDIO Vidauban
Viva Vidauban: The Dr Jekyll and Mr Hyde Side of a Show
Dutch Victorious in Opening Leg of Pilot Season for FEI Nations Cup Dressage at Vidauban