2013 Bundeschampionate Qualifier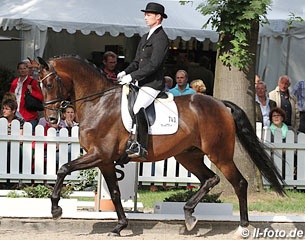 The 5-year old Sereno and 6-year old Santiago were the winners of the Bundeschampionate qualification classes held at the well-attended local dressage show in Wedel, Germany, on 20 May 2013. No less than 41 horses competed in the L- and M-level dressage horse test to obtain a qualification score for Warendorf.
The 5-year old division was won by Laura Aromaa on Paivi Kokko's dark bay Sereno (by Stedinger x Waterford). The duo scored 8.5 and referred Catharina Haaren on the Hanoverian stallion Heaven's Delight (by Hampton x Londonderry) to a second place wiht 8.4. Anna Sophie Fiebelkorn completed the top three by placing third aboard the 2013 Hanoverian Spring Elite Auction price highlight Fritz (by Farewell II x Londonderry) with 8.2.
In the 6-year old division Christian Flamm rode the Hanoverian bred Santiago (by Stedinger x Dacaprio) to a strong 8.8 score and ranked at the top all on their own. The second placed pair, Klaus Schrader and the Hanoverian stallion Lord Poinsettie (by London Swing x Werther), scored 8.3. Esther Maruhn and the Hanoverian gelding Rovereto (by Rousseau x Wolkenstein II) were third with 8.2. They tied with Sophie Ludewig on Lexington.
Photo © LL-foto.de

Results - 2013 Bundeschampionate Qualifier - Wedel
5-year olds
1. Laura Aromaa - Sereno - 8.5
2. Catharina Haaren - Heaven's Delight - 8.4
3. Anna Sophie Fiebelkorn - Fritz - 8.2
4. Marco Buhrig - Higgins B - 8.1.
5. Katalin Garrn - Dornkaat - 8.0
6. Maike Gunthner - Eviva - 7.7
7. Christina Stark - Lady Leticia - 7.6
8. Markus Waterhues - Lorenzio von Nymphenburg - 7.5
8. Rieke Schnieder - Sansibar - 7.5
10. Sandra Frieling - Quintaner - 7.2
11. Jessica Otten-Willers - Sevilla - 6.7
11. Merethe Wempe - Sir Bo Bo - 6.7
13. Magdalena Preisler - Dancing Paul - 6.6
14. Dominic Nathanael Erhart - Langdon B - 6.6
15. Friederike Wolf - Crispino - 6.3
6-year olds
1. Christian Flamm - Santiago - 8.8
2. Klaus Schrader - Lord Poinsettie - 8.3
3. Esther Maruhn - Rovereto - 8.2
3. Sophie Ludewig - Lexington - 8.2
5. Markus Suchalla - Catoo - 8.1
6. Nadine Plaster - Fullsister - 8.0
6. Raphael Thomas - Santo - 8.0
8. Alexandra Bimschas - Danse du Feu - 7.7
9. Annemarie Finger - Elfenzauber - 7.5
9. Frauke Struve - Fair Pleasure - 7.5
9. Nicole Kirschnick - Summer Girl - 7.5
12. Daniela Kahle - Dawn of Rise - 7.4
13. Carolin Heyser - Acron - 7.3
13. Anna Sophie Fiebelkorn - Secret Love - 7.3
15. Ulrike Hatzl - Don Delay - 7.2
15. Franziska Sauer - Fiederglanz - 7.2
15. Frank Lange - Star of Rubica - 7.2
18. Ilka von Ludewig - Diva Noir - 7.1
18. Frauke Struve - Ready to Take Off - 7.1
18.  Aaron Quinn - Sir Whitefoot - 7.1
21. Katharina Krauskopf - Sansolino - 7.0
21. Markus Waterhues - Shapiro - 7.0
21. Melanie Tewes - Daidalus - 7.0
24. Katharina Krauskopf - Sir Henri de Verlaine - 6.9
25. Frank Lange - Rommel - 6.6
26. Nina Rosch - Stallone - 6.5
Related Link
Eurodressage Coverage of the 2013 Bundeschampionate