German Dressage News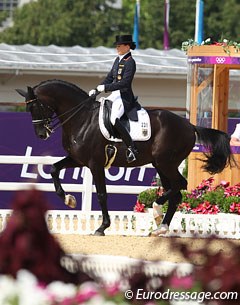 Kristina Sprehe and Despardos will not be competing at the 2013 German Dressage Championships in Balve, Germany, on 6 - 9 June 2013. In principle Balve is a mandatory selection trial for German team selection for the 2013 European Championships in Herning.
Sprehe's 12-year old Hanoverian licensed stallion Desperados (by De Niro x Wolkenstein II) injured himself during a schooling session at the 2013 World Cup Finals in Gothenburg, Sweden, at the end of April. Although the injury was not severe and the black stallion is back in training, Balve will be too heavy a show at this moment with three competition classes.
Chair of the German DOKR Dressage Selection committee Klaus Röser commented that "after a discussion with the trainer, team trainer, rider, owner and team vet as well as with the members of the dressage selection committee, it has been decided not to compete at the German Championships for the welfare of the horse."
The DOKR selection committee have therefore given Sprehe a bye for Balve but she will have to show form at the CDIO Aachen in order to be considered for the team.
"Kristina will start in the CDI in Aachen and then be eligible to be nominated for the Team for the European Championship," team trainer Monica Theodorescu told Eurodressage. "Balve is mandatory to be selected for the team that competes in the CDIO Aachen. Aachen (CDIO or CDI ) then is mandatory to be selected for the (German) team at the Europeans."
Matthias Rath and Totilas are no longer up for team contention as the black stallion is far from being in competition form and has not been entered for Balve. He won't compete in Aachen either, but Rath is apparently aiming for a come back during the 2013-2014 indoor show circuit.
Photo © Astrid Appels
Related Links
Eurodressage Coverage of the 2013 CDIO Aachen
Desperados Out of 2013 World Cup Finals
Totilas Unlikely to Qualify for 2013 European Dressage Championships